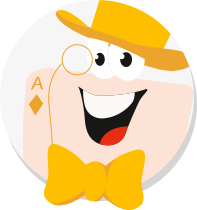 About Us
Online since 2006, LCB is an awarding winning site offering comprehensive gambling
information and unbiased player feedback.
iGB Best Casino Affiliate 2013 & 2014
Our Mission

To Bring More Value To The Player
The LCB Story
Before there was an "Us" it is important to mention there was a "me", You will often see me (LCB Admin) in red text on the bottom of the forum page in the Users Online section, I am an Australian and started the site one evening late in 2006. In 2000 I was just out of college (university) and a landed a job as a Flash developer working 12 hours a day at an online start-up company. The company quickly grew giving me the insight and knowledge needed to venture out and start my own business, LCB, in 2006.

Established in 2006, LCB has become an award-winning site, dedicated to delivering reviews on more than 1,000 online casinos, and over 3,500 casino bonuses, while providing access to more than 280 casino representatives on the forum, thousands of free games, and tournaments. It is also the largest online casino forum, with more than 80,000 registered members.

The other part of the "Us" is the members because without their feedback, first hand player comments, helpful tips, sharing promotional offers and Bonuses we wouldn't be nearly as successful as we are today. We are proud to have anywhere between 300,000 to 2,000,000 visitors in a single month depending on the time of year and search engine results. We broke our own record at the forum with the Most Online Ever – 21,727 members and guests in one day

After experiencing great success with LCB, the team expanded, launching new site, Casinolistings, in 2007. It all started with two men wanting to share their sound knowledge and expertise with those who are great fans of online gambling. The goal was to create an informative site where players could familiarize themselves with trusted online casinos, casino bonuses and the latest gambling news. It would also give members the chance to share their experiences with fellow players..

"Most Online Ever - 21, 727 members and guests in one day."

Poker and sports fans can expect the same treatment as well. LPB conveniently delivers the biggest and best poker bonuses, along with poker tournaments and exclusive offers from the best poker rooms. LSB, on the other hand, provides a community in which individuals can place bets on sporting events, while also offering a wide range of news, evaluations, and promotional offers regarding sporting events. There is no need for avid gamers to waste their time or money; each of these sites are only a few clicks away.

2009

Launching 3 more sites!

Three more sites followed the launch of Casinolistings in 2009: Latest Bingo Bonuses (LBB), Latest Poker Bonuses (LPB), and Latest Sportsbook Bonuses (LSB). All three sites provide players with information regarding bingo, sports betting and poker. Bingo lovers will find their niche at LBB, which incorporates reviews of over 300 bingo sites, complete with player ratings and comments. A bingo forum also allows players to interact with one another.

2011

Launching Casino Slots!

In 2011, LCB owners and marketing manager, collaborated to create yet another site, Casino Slots. Its overall aim was to meet the needs of online players and provide them with a list of trustworthy and credible casinos, along with reviews of the slots they offer. In the pool of online casinos, it's very hard to choose where to deposit and where to spin the reels. Casino Slots was created with the intention of eliminating this common dilemma among players.

2012

3 more sites on board!

The expansion continued with the founding of both No Deposit Bingo and No Deposit Casino in June of 2012. Each site encompasses an extensive, online library, consisting of a plethora of promotions, reviews, and the latest in bingo and casino news. However, the main objective of each site is to select and offer the best bonuses available for both bingo and casino players to take advantage of. Also in 2012, was the addition of free casino games.

2013

"Best Casino Affiliate Award"

Not only did LCB's success materialize in the form of expansion, but recognition as well. At 2013's iGB Affiliate Awards, held in London, Latest Casino Bonuses scored the title of 'Best Casino Affiliate' site of the year. The awards serve as the UK's most prestigious recognition platform for businesses in the online gaming affiliate industry. In previous years, the site had been shortlisted, but in February 2013, they reached a new milestone.

2014

At the following year's iGB Affiliate Awards, LCB being no stranger to the event at this point, scored wins in two separate categories. February 2014 marked yet another impressive feat for the team, as it won 'Best Casino Affiliate' for the second consecutive year in a row, with the addition of the prized, 'Best Overall Affiliate' title. Judges based these wins on the team's dedication to the industry, overall depth of content on the site, and library of offers available to its members.

Fast-forward to May 2014, and LCB acquires, 'OnlineBlackjack.com.' This online portal was created for both amateur and professional blackjack players, and features detailed articles on blackjack strategies, paired with honest evaluations for online and land-based games. Members can also check out the most recent blackjack-related news to keep up-to-date on this classic table game.

Without taking much of a breath, LCB owners added yet another notch under their belt, in July of the same year, with the addition of GamesandCasino.com. It serves as a compilation of the highest-rated casinos, with nearly 7,000 pages updated regularly with breaking casino news, select casino games, and brand new slots.

The excitement continued, and a massive benchmark was achieved in September 2014, with the purchase of Wizard of Odds, Wizard of Vegas, and Wizard of Macau. Founder of the sites, Michael Shackleford, made a deal with the owner of LCB, selling all three sites he had established nearly 20 years prior. Shackleford has remained on as a full-time writer and advisor, working closely with the new owners.

Only a few months later, the LCB team ended the year with quite a bang. Just prior to the start of the New Year, in December, the site reached a new level of Free Games available to its members. The scale tipped to over 3,000, making it one of the largest libraries of free games out there, available for players to check out, hassle-free.

"1000 online casino reviews
3 ,000 free games
. . .and so much more."

As the New Year unfolded, it didn't take long for LCB to set yet another record for itself. In January of 2015, the site announced its impressive accumulation of 70,000 members, making it the first milestone of the year. The feat occurred thanks to a U.S. player, who became a member on January 18th, having little idea as to what would ensure as a result.

After reaching over 3K free games, and counting, LCB discovered, in February of 2015, just which one of those titles was the favorite among members. The proof came from it having been launched over 2 million times. The title went to Playtech's Gladiator slot game, which players have consistently given a high rating, resulting in a 4 out of 5 star average, on over 6,000 ratings. Perhaps it's the game's massive $1,250,000 maximum jackpot that helped do the trick.

Just over a year after having reached 70,000 members, the site celebrated yet another achievement. In basically a year's time, the site had accumulated yet another 10,000 members, giving it a grand total of 80K by February 2016. It served as a major event for the LCB team and its followers, and each moment of the countdown to 80K was captured via a live feed, as each newly registered member was announced. When the eighty-thousandth member was finally announced, it's safe to say, absolute chaos ensued, as the site celebrated.

Bj21.com serves as the most recent achievement for LCB owners, acquired in March 2016. It delivers, not only a community for blackjack players, but also doubles as a player advantage with its subscription-based message board. It offers an easy-to-navigate interface, and is an impressive source of information for blackjack, craps, sports betting, poker, and other casino games from gambling expert, and author, Stanford Wong.

What draws such enormous traffic to LCB? The answer is simple; we cover every aspect of gambling piquing interest in many different facets of the industry. The LCB library has over 50,000 pages consisting of more than 1000 online casino reviews (and counting), world directory of land based casino reviews, 3 000 Free games, Jackpot monitor, live dealer, mobile gaming and so much more.

Among some of our most popular sections are the No Deposit Bonuses, Exclusive Bonuses and contests featured on the forum. The LCB loyalty program rewards active members with LCB coins that can be used to redeem valuable gifts in our shop.

The LCB team has accomplished much since its conception, a decade ago. It began as a success and has seen continued praise over the years with the launchings of over 10 additional sites, which have each created their own, unique identity among the online gambling community. At the moment, things have slowed down a bit, though one never knows what may be right around for the always-creative LCB team.

LCB has partnered with 75 online casinos
LCB Admin

Joshua Chan

Founder

zuga

Nikola Zugic

Co-CEO

Lipstick

Ava Carson

Chief Content and Land Casino Manager

Luckynn

Nenad Ninic

Office Manager & Admin

Melcb

Melanie Attwell

Marketing Manager & Global Moderator

blueday

Kitty McDonald

Shop Manager and Global Moderator

Feelin froggy

Glo Wood

Bingo Manager and Content Writer

Anchi

Ana Sekaric

Data Research & Casino Moderator

drtheolen

Vladimir Zdravkovic

Slots & Content Manager

Johnny Karp

Johnny Karp

Sportsbook Moderator & Content Writer

Markotik

Vladimir Bralovic

Content Manager

miroslavlav

Miroslav Lav

Developer

Nat

Natasa Marinkovic

Web Designer

Trdza

Marko Trkulja

Social Media Manager

korokoro

Katia

Italian Translator and forum moderator

HardyK

HardyK

German Forum Moderator

MelissaN

Milica Nikolic

Account Manager

dirkemans

Dirk

Dutch Moderator and translator

Mission146

Brandon James

Author

Natalie Stephanopoulos

Natalie Stephanopoulos

Content Writer

dusan123

dusan123

Developer

petartrifunovic

lcb_member

Web Designer

nina_davidovic

Nina Davidovic

Content Writer

Wizard of Odds

Michael Shackleford

Author

Geno

Geno Lawrenzi Jr.

Author

gordon

Darko Gordanic

Developer

taocokojung

Tao Moonasa

Finance Manager

marina_m575

MarinaM575

Data research and analytics

johnW

johnW

Data research and analytics

Uros

Uros

Developer

janiusus

janiusus

Developer

Jelena

Jelena

Front End developer

troll

troll

Developer

Tamara Lazic

Tamara Lazic

Developer
lcb activities in the last 24 hours
27

new members

673

members online

12710

guests online

153

new posts

1778

free games played
Join the club
Join today and start earning rewards
You will immediately get full access to our online casino forum/chat plus receive our newsletter with news & exclusive bonuses every month.
Join instantly with your social account