Blackjack
How to easily play blackjack like a professional and find the best online blackjack bonuses.
Blackjack should need no introduction. I would hazard to say that it is the most popular casino table game in the world measured by number of players. I won't get into the rules because they are so widely known. If you need to review them, please see an explanation here.
One of the most frequent questions I get is "What casino table games have the best odds?" The answer is blackjack and craps. No other popular table games come close. With both of these games, it is easy to get the house edge under 1% and often under 0.5%, depending on the rules. However, few players enjoy that low house edge on blackjack because most of them play awful strategy. Studies have shown that for the average player, strategy errors increase the house edge by 2%. This article was created to help you easily become a sharp player and save you losing that extra 2% above the house edge at the tables. With just some simple rules of thumb in this article, you can cut the cost of errors by 93%.
As with many casino games, there are two parts to getting the best possible odds:
Game selection
Playing proper strategy
Game Selection
Regarding game selection, here are some things to look for and to avoid:
Always insist on a full 3 to 2 win for a blackjack. It doesn't matter how good the rest of the rules are, they pale in comparison to getting a full pay on a blackjack. The most common alternative is odds of 6 to 5 on a blackjack. Have absolutely nothing to do with that. Lowering the win on a blackjack from 1.5 to 1.2 increases the house edge by 1.35%.
The fewer the decks, the better. However, other rules often are better at games with six or eight decks. Some casinos will offer the exact same rules in their double-deck and six-deck games. In that case, play the double deck.
Look for games where the player can double after a split.
Look for surrender as an option.
Look for the American "peek" rule at the hole card. In a land casino, you probably won't have a choice, but many Internet casinos offer both the liberal American peeking rule and stingy European no-hole card version. Online blackjack rules tend to be awfully written, but if the dealer takes a hole card, the software probably will expose a blackjack immediately. If it doesn't take a hole card, then you probably will lose everything if you double or split.
If you're not sure, you can input almost any set of blackjack rules into my house edge calculator and it will give you the house edge.
Playing Proper Strategy
Once you've settled on a game, the next part is playing your cards right. For years I pushed what is known as the "basic strategy," which is the best way mathematically to play any combination of the player's hand and the dealer's up card. However, with about 400 different situations, I found most recreational players didn't have the time or patience to memorize it. To address those players who wanted to improve their game at a minimum of effort, I created what I call the "Wizard's Simple Blackjack Strategy."
If you look at the full basic strategy you can see that there are clusters of types of hands that are played the same way. It also makes a huge difference whether the dealer's card is low (2 to 6) or high (7 to ace). In my Wizard's simple strategy I group the player hand into ten different kinds and just two types of dealer up cards. That makes only 20 different situations to remember. Let me explain each one:
Player hard totals
This strategy is for hands that don't include an ace and can't be split. If the strategy says to double, but you can't, probably because you have more than two cards, then hit.
With 8 or less total points, always hit. Pretty obvious.

or less

With 9 total points, double against a dealer small card and hit against a high one.

With 10 or 11 total points, double if your total is more than the dealer's up card. Treat a dealer ace up as 11 points.

or

With 12 to 16 points (known as a "stiff" hand), stand against a small card and hit against a large one.

or

or

or

or

As an exception to rule 4, surrender a total of 16 against a 10, if allowed to.

vs

With 17 or more total points, always stand. Again, that one is obvious.

or

or

or
Player soft totals
This strategy is for hands that have exactly one ace, known as "soft hands." The way they are described is to count the ace as 11 points and then take the total. For example, an ace and a seven would be a "soft 18." Doubling is usually restricted to the first two cards only. If you have a soft hand composed of three or more cards, and the strategy says to double, then hit instead, except stand with soft 18.
With soft 13 to 15, always hit.

or

or

With soft 16 to 18, double against a low card and hit against a high one.

or

or

With soft 19 or more, always stand.

or
Splits
This strategy is for pairs or hands that can be split. If the strategy calls for not splitting, then use the strategy for hard totals above.
Always split eights and aces.
With a pair of 2s, 3s, 6s, 7s, or 9s, split against a small card.

,

,

,

,

Never split a pair of 4s, 5s, or 10s. A good memory device is not to split the F pairs (Fours, Fives, and Faces).

,

,
I hope you can see the logic to most of these situations. A common theme is that you want to be more aggressive with doubling and splitting against a dealer low card, often called a "bust card." However, against a high card, you have to be more conservative with any action that puts more money on the table but more aggressive about hitting to a higher total, or go bust trying.
Here is the whole strategy in a handy chart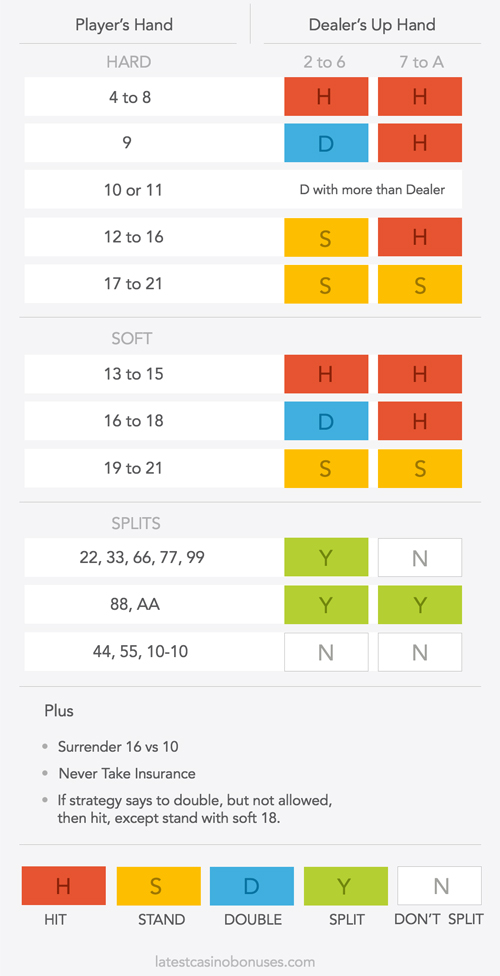 You may be wondering, "What is the cost of errors using this simple strategy compared to the full blown basic strategy?" The answer is amazing -- only 0.14%. That is about one hand for every 12 hours of play.
While I think this strategy is excellent for beginners, I do recommend that after you master this strategy you take up the full basic strategy. If for no other reason, do it for the love of the game.
I hope this strategy saves you a lot of money at the tables.
Related Articles
Popular Free Blackjack Games
more

54

Bonuses found
Refine Results
Best Blackjack Bonuses
We are only showing bonuses that accept players from United States.
Current Blackjack Tournaments
VIP Black Jack

Blackjack Winner $100 Entry

Weekly Blackjack $125 Entry
Edward O. Thorp - The Author of 'Beat The Dealer'

explore
Join today and start earning rewards
You will immediately get full access to our online casino forum/chat plus receive our newsletter with news & exclusive bonuses every month.
Join instantly with your social account