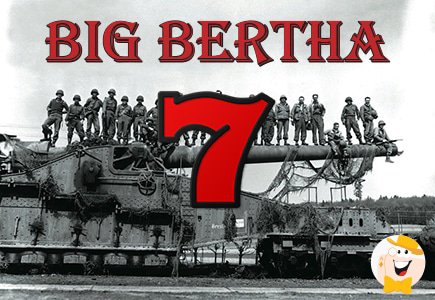 There have been two Big Berthas in my life. The first was a German artillery piece that was used by the Nazis during World War II in Adolph Hitler's ill-fated attempt to conquer the world.
After the war ended, the massive gun was shipped to Aberdeen Proving Grounds, MD. where it was placed on permanent display near the base's army barracks. I was stationed on a Nike-Hercules Missile Site in Southern California near Palmdale when the U.S. Army decided to make a supply clerk out of me.
In order to do this, they sent me to Aberdeen Proving Grounds for eight weeks of TDY (temporary duty) training. Along with 250 other recruits, I was assigned to a barracks near the long gun and marched past it every morning at 6 a.m. on my way to chow.
The other Big Bertha I came into contact with was a slot machine. Billed as the 'largest slot machine in Las Vegas,' it operated at Circus Circus Casino where my friend Mel Larson worked as director of public relations.
I had met Mel, a former NASCAR race car driver, at Phoenix International Raceway where as owner he staged major racing events like the Jimmy Bryant Memorial, a long race that featured America's top race car drivers. There I met and interviewed such noteworthies as A.J. Foyt, Mario Andretti and the Unsur brothers.
When Larson sold the race track and moved to Las Vegas, he stayed in touch with me and told me if I ever came to Las Vegas, he had a free room for me. Being the type not to ignore such generosity, I made it a point to call Mel on my next trip to Glitter Gulch.
'Sure, Pardner,' said Mel in his Arizona-friendly tone. 'Check in any time you want. The room will be ready for you.'
In those days I was a blackjack player. Poker was not yet one of my specialties. That would come later. I checked into my room, visited Larson in his magnificent office, met his long-legged blonde secretary, and decided my old pal had made a major step up in the world.
While I was playing blackjack or 21, I noticed a lot of commotion coming from a corner of the casino. A group of people were gathered around one of the largest slot machines I had ever seen. It stood twice as tall as a man.
When I asked the dealer about the machine, he said proudly, 'That's Big Bertha. We just installed her. She's the largest slot machine in the city. If you get three monkeys -- hear no evil, see no evil, speak no evil -- you win $500. But if you hit three pink elephants, you win the $1,000 jackpot.'
I went to bed in my comfortable air-conditioned suite that night seeing three pink elephants in my mind.
Early next morning, I had breakfast. Then I went looking for Big Bertha. A lone individual was playing the machine, feeding dollar bills into it. For a dollar, you could pull the massive slot handle twice. I watched him for more than 30 minutes. He didn't win much but he didn't lose either.
That convinced me the machine was ripe to hit. The images of monkeys covering their eyes, mouth and ears along with an occasional pink elephant kept popping up. When the man finally left the machine, I hurried to take it over.
I inserted a $20 bill into Big Bertha and began pulling the handle.
Again and again, I tugged at the handle. The monkeys showed up, but not in sequence. I was about $18 down. At that moment, Mel Larson came up to me.
'How do you like the room?,' he said cheerfully.
'It's fine,' I said. 'Now if I could only hit this damned machine of yours --'
One pink elephant...two pink elephants...three pink elephants appeared. The machine began blinking and lights went on and off. I had hit the jackpot.
Mel pulled out a cigar and lit it, with a big grin on his face. 'I hope you're going to write about that,' he said as a security guard rushed off to check the machine. One of the change attendants paid me $1,000 in crisp $100 bills. I gave her a tip.
When she went away, Larson said, 'NOW are you happy?'
I grinned and slapped him on the back. 'Make that ecstatic. Let's have a drink.'