Royal Feast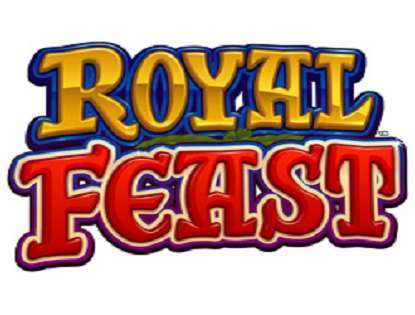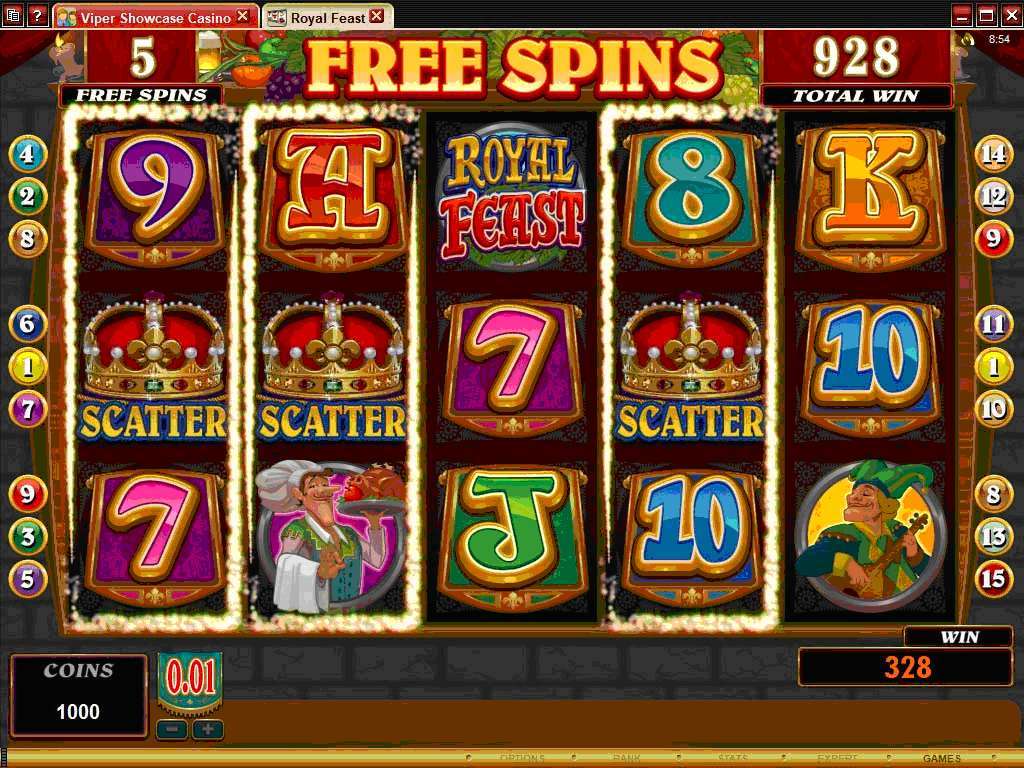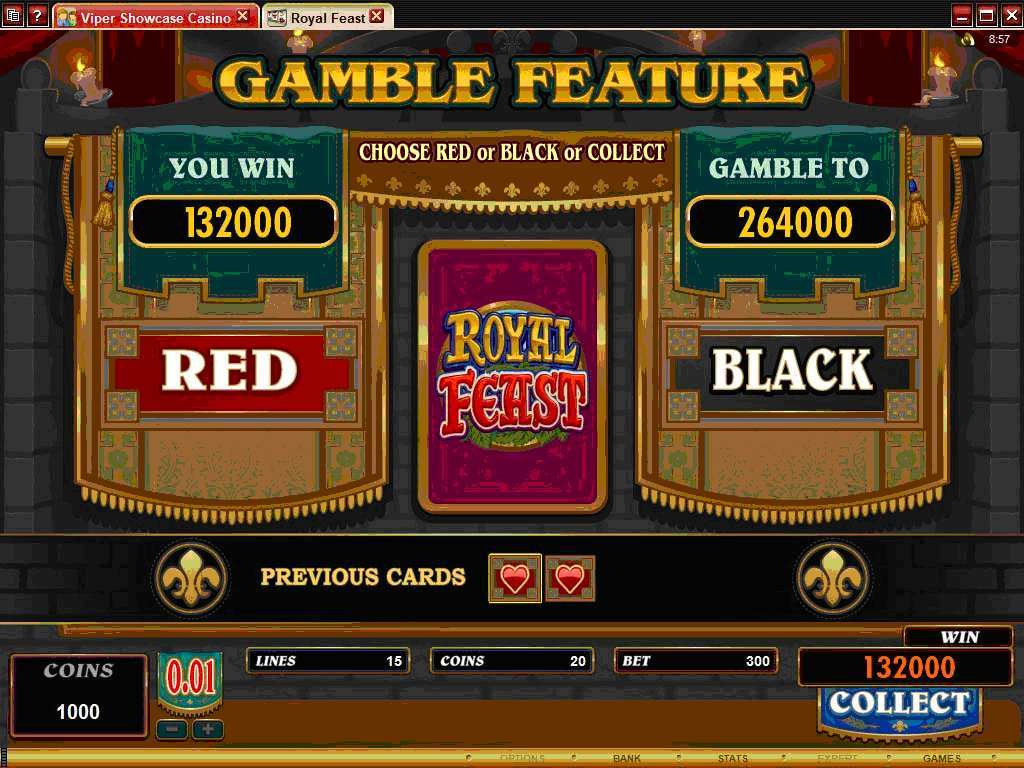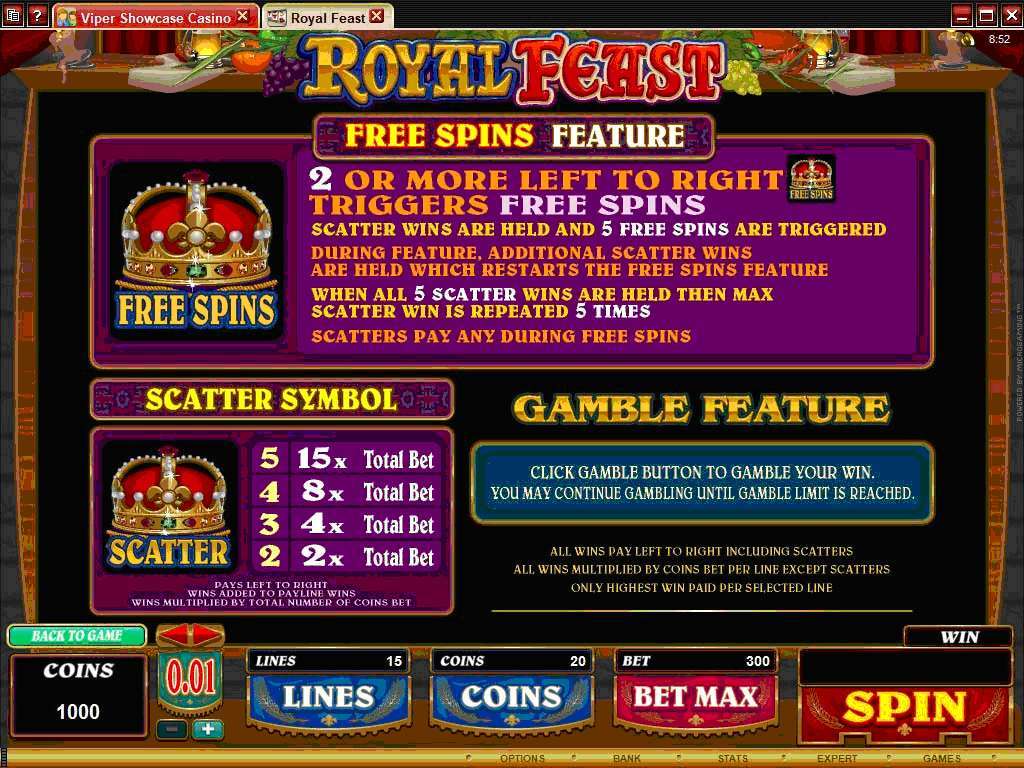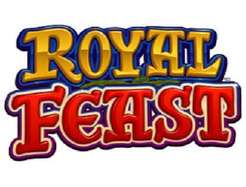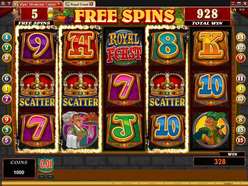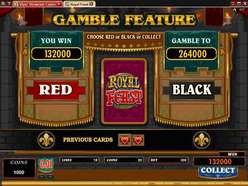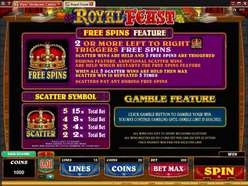 Top Microgaming Gaming Casinos
I bet we would all like to attend a royal feast some time. You know, the one with all the classy stuff – big dining hall, silver spoons, French chef's specialties, entertainers, lovely ladies, cheerful kings. Well, if you still haven't had a chance to hang out with VIPs at an excellent royal feast, Microgaming will enable you to do so. Its brand new release of the same name – "Royal Feast" will give you that special feeling and keep you entertained for a while.
This 5-reel, 15-payline slot is easy to love. It is bright, colorful and cheerful, featuring superb Microgaming graphics and fun sounds. This interesting, historical slot brings you back into the times of corpulent kings and beautiful queens, who loved to throw parties for their VIP guests. At this particular party you'll also be introduced to king's jester and elegant chef, both of which will make your stay at the castle more enjoyable. Unfortunately, its list of special symbol is rather short, which means that you'll need more luck than usual if you want to win a big prize. However, you will get at least a little help from the scattered crowns and free spins, and perhaps increase your prize in the Gamble Feature.
"Royal Feast" offers you a chance to play like a king, or like a pauper. In that respect, it provides you with a wide choice of coin amounts and coin numbers. First of all, you should select the coin value, which can range between 1 cent and 25 cents. Then there's the number of coins per line, which can go as high as 20, giving you enough opportunity to play as you wish – like a highroller, or maybe place smaller bets. In either case, there's a decent chance that you'll win something, even if only a little, because this slot rarely leaves you with nothing.
In terms of the above mentioned special features, it's quite a pity "Royal Feast" doesn't feature some of the standard ones, such as wild symbol and multipliers. However, a small compensation comes in form of its scatter symbol, which triggers 5 free spins when two or more of them appear left to right. Even though the fact that scatter needs to appear in a certain order may irritate you a bit, the creators of this slot made sure that you still get plenty of winning chances.
Namely, when you trigger the free spins, you hold scatter wins; in addition, the feature can be restarted by additional scatter wins. And to make things right, during the free spins, scatters will pay any. However, if you hold all five scatter wins, they're repeated five times.
But that's not all, folks! If you're eager for more fun and thrill, you are allowed to gamble your every win. All you have to do is press the Gamble button and play this feature until you reach the gambling limit.
You must agree that, unlike in real life, "Royal Feast" doesn't require much of its guests – no special attire, no particular manners, just mere attendance. So I guess it'd be better to stick to the virtual world and have fun there – it is both fun and can be rewarding.
Play and Payment Details
$0.01 - $0.25

Betting range

1.0 - 20.0

Coin bet range
Players of Magical Forest also played
Highest Community Rated Online Casinos

"Yes... I agree with You. Posts in my opinionshould be created only how and what is trady to claim. Very often I checking what is inside of post and there histories of poor winning after loose bonus funds"

READ

Started by

Hero Member

566

"Videoslots confiscated $25,000 and closed account without notifying account owner I just had a really unpleasant story with videoslots. They closed my account and confiscated about $25,000 of winnings, all of this without even bothering themselves with notifying me via email, yes, you heard it, videoslots closed account without notifying owner of it. Recent chat log with support, after account been banned for some time now Adam L: How can I help you? 04:39Anatolii: whats happenin with my account? 04:39Anatolii: i don't recieved any email 04:40Adam L: Your account is locked for a security review, we will contact you via e-mail with information regarding this 04:40Anatolii: you told me the same yesterday 04:40Anatolii: but i still waiting Adam L: Yea but you should receive a e-mail about this soon Adam L: I do not have more information right now unfortunately As I found out this from my friend later, this was done on grounds that I was multi-accounting. My account is fully verified by videoslots by the way and my Skrill account which I used for deposits also fully verified and has many years of transactions. I didn't use any bonuses on videoslots, ever! Because this is what most people accused in multi-accounting do. My account was used by me and my friend and videoslots management was very well aware of this before and was okay with this! My friend is a Russian high-roller, casino blogger, casino owner and one of the biggest affiliates in Russia, he also likes to stream, which we occasionally do together and I have a lot of proofs of this. Here, for example, we are streaming at RedStar casino together https://youtu.be/ihBrJc_7rIA?t=976. We been streaming together for years now I must say. So on November of 12 he asked me to create an account at videoslots so that we could start streaming there. Naturally I went to his blog about casinos (which is by the way top 1 affiliate website in Russia) to find about videoslots there. I know that his blog always has the most recent "mirrors" of websites, since Russian internet providers always ban casino websites lol. So anyways, I went there for a "mirror" and soon enough made account at videoslots. The main problem here, as I already stated, is that videoslots management was very aware of me and my friend playing together on one account, as we contacted them previously and they had no problem that my account was being used by us, and I provide this chat log below with videoslots vip manager as a proof, it's my friend speaking there: 1/17/2017, 12:21:23 PM Kennyc_VS : Hello :) Kennyc_VS : Hope youre doing well. I've looked into your account and it seems like we're still missing a few documents we requested. 1/17/2017, 12:38:53 PM ttrcasinoru : hi ttrcasinoru : who are you? ttrcasinoru : ahh Kennyc_VS : My name is Kenny, i work for Videoslots. I'm the Head Of VIP. ttrcasinoru : you are from VideoSlots Kennyc_VS : i am indeed mate. ttrcasinoru : it's actually my friends account ttrcasinoru : we play togethet ttrcasinoru : did u see our stream? ttrcasinoru : https://youtu.be/boG74oBcaLc Kennyc_VS : Yeah i saw the video :) Kennyc_VS : Fun stuff! :) ttrcasinoru : so we waiting when will be ok and resume to play ttrcasinoru : is it possible to increase the maximum limits? Kennyc_VS : Which limit do you refer to? ttrcasinoru : i don't known Kennyc_VS : :D Kennyc_VS : hard for me to help then mate :) ttrcasinoru : actually we plane to play in various casinos 1/17/2017, 12:42:30 PM ttrcasinoru : because i am promote new website ttrcasinoru : http://slotrunners.com/threads/videoslots.1486/ ttrcasinoru : will be create if you can share someone who can reply in this topic Kennyc_VS : Haha i see ttrcasinoru : and i will play u at top1 of our rating) Kennyc_VS : so you want to increase the deposit/withdrawal limit then? ttrcasinoru : on slotrunners ttrcasinoru : yeah ttrcasinoru : about 100k$ ttrcasinoru : now is 40? Kennyc_VS : 30. Kennyc_VS : Will have a look Kennyc_VS : however, i need to speak to the owner of the account to be able to do anything, due to safety reasons. ttrcasinoru : yeah, sure ttrcasinoru : he is sleep now i think) Kennyc_VS : Can you please email me to VIP@Videoslots.com - from the email registered on the account, and the account holder. ttrcasinoru : ok ttrcasinoru : i will say him to do it ttrcasinoru : what kind of docments are missing now? And here's a screenshot proof of this happening http://i.imgur.com/0aP7p4k.jpg So, as you see, it seems like videoslots vip manager had no problem at all with this, they even made a cashout for me the previous to this story day, all the while knowing this. I guess the win wasn't significant enough and they didn't bother themselves with it, as it was a good hype for casino, a high-roller stream. Here is this stream after which I was allowed to cashout: https://youtu.be/boG74oBcaLc https://youtu.be/7Sn2205YPrY After next session, however, they didn't allow me to cashout winnings as my friend had a huge winning session by the end of which he had $60,000 on his balance (during the stream the number even reached $90,000). You can see proof of these winnings in two following videos: https://youtu.be/7REK8RCfi48 https://youtu.be/Pd1BY1g5BpQ As I see it, videoslots applying their double standards on me, as I know for a fact, that some other twitch streamers partnered with videoslots using same account to stream there too, I just don't want to call the names here. So here it is, they banned an old account of my friend too, which had tens of thousands of lost deposits, why don't they return those money too if they think what they just did is righteous? Or it's all good while you losing and suddenly became strongly prohibited once you win big? Is that right? The main point I'm trying to make here, is that videoslots management was well aware of that me and my friend were using same account for streaming, they let us depositing and playing while there were no big wins, once we won substantial sum, they confiscated all winnings. My friend made a video-explanation of this situation https://youtu.be/SYAtdia5LEk "

READ

Started by

Sr.Newbie

17

"Please send me in for Manhattan.   Thanks ID:   Freedom4"

READ
lcb activities in the last 24 hours
38

new members

640

members online

34702

guests online

115

new posts

2342

free games played
Join the club
Join today and start earning rewards
You will immediately get full access to our online casino forum/chat plus receive our newsletter with news & exclusive bonuses every month.
Join instantly with your social account