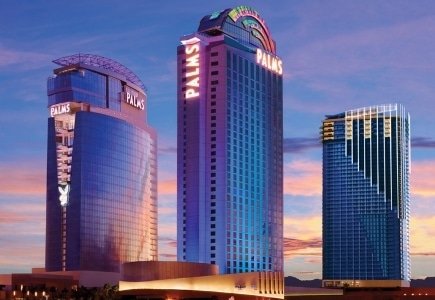 Nevada based casino operator Station Casinos announced its plans to purchase the Palms resort, located off the Strip, for a $312.5 million price tag as part of its expansion plans.
The operator's casinos include Green Valley Ranch, Red Rock Casino Resort & Spa, Boulder Station, Palace Station and several others across Nevada and the US.
In a statement regarding the Palms, Red Rock's CFO, Marc Falcone, said, "With the acquisition of the Palms we gain a leading gaming asset in Las Vegas with key strategic benefits in the Las Vegas locals market and close proximity to the Las Vegas Strip,. With its appeal to both Las Vegas residents and tourists alike, the Palms is a hybrid gaming property that is uniquely positioned to benefit from the strong economic trends in Southern Nevada and record visitation levels in Las Vegas."
The Palms is situated on Flamingo Road and is home to a sprawling 95,000-square-foot casino floor, just over 700 hotel rooms in its two towers, a race and sportsbook, a spa, restaurants, nightlife, entertainment and much more.
Also in a statement on Tuesday, Geoconda Arguello-Kline, the Culinary Union's secretary-treasurer, commented on the acquisition as he commented on how the union has "seen many casinos and owners come and go"; however "the Union and workers who helped build this town will always be here."
The union has attempted to organize workers within Station Casinos without success so the acquisition doesn't come without its issues.
"The workers at the Palms have made it clear that they want a fair process to choose whether to unionize," Arguello-Kline added. "We will continue to work with the Palms employees until they achieve their goal."