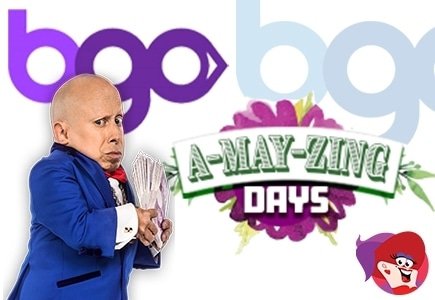 May usually represents that time of year when the weather gets a little warmer, and spring is finally in full swing. You see less rainy days, and a whole lot more of the sun. The smell of freshly-bloomed flowers fill the air, along with the delicious scent of outdoor BBQs. To celebrate this wonderful time of year, BGO is going a little bit whacky, giving away fabulous prizes to its members, each day of the month, all of which have been given a unique theme for its A-May-Zing May event.
Here's how it works: Players can conveniently pre-buy tickets for daily A-May-Zing games, at just 3p a pop. Games will take place promptly each day at 10pm in the Fairy Delight room, for the opportunity to snag a sweet prize.
Check out what's in store for the rest of the week:
Wednesday 11th May: Eat what you want Day
Prize: 12 Month Tastecard Membership
Thursday 12th May: Limerick Day
Prize: Online Writing Course
Friday 13th May: Tulip Day
Prize: Tulip Bulbs & Garden Tool Set
Saturday 14th May: Stay up all night day
Prize: £25 Netflix Gift Card
Sunday 15th May: Dinosaur Day
Prize: 2 tickets to Dinosaur Adventure Park
To make things more interesting, a cash alternative is available for each day's prize. Players can participate via desktop, mobile or tablet device. The promotion will run straight through until the end of the month, ending on May 31st.