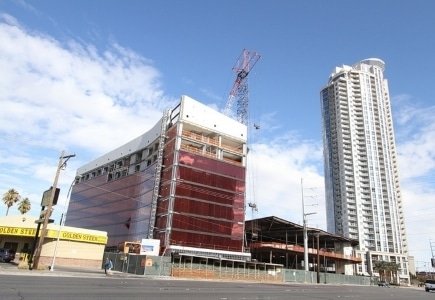 A brand new casino and hotel is scheduled to open in Las Vegas in late 2016, designed by architects Ed Vance & Associates. It will be located near the north end of the Strip at 300 W. Sahara Ave, next to Allure Las Vegas The Lucky Dragon Hotel & Casino will serve as the very first casino on the Strip to take on an authentic Asian theme, catering not only to Asian players, but also to those who simply share a love for the culture and its games.
According to David Jacoby, chief operating officer of Lucky Dragon, "Our principals have provided the financial commitments necessary to ensure Lucky Dragon's development remains on track for an opening later this year. As the first ground up casino development in Las Vegas in six years, the opening of Lucky Dragon Hotel & Casino will mean more options for Las Vegas visitors and locals alike. We are filling a niche in Las Vegas and we're thrilled to bring such a carefully curated array of Asian-focused gaming options, restaurants and amenities to Las Vegas."
To really fuse an authentically Asian flair into the establishment, the facility will be delivering signage in Chinese first, and English second, while also incorporating a multilingual staff. It will also feature a 27,500 square-foot gaming space, centered on a pagoda-shaped bar, providing some of the most popular table games in Asia, including baccarat, and pai gow. In fact, only a few, more Americanized games will be sprinkled throughout the casino. Both high-limit and VIP gaming will be available. Also within the casino space, players will be able to view an impressive, 1.25 ton glass dragon sculpture, which is suspended from the ceiling.
Complementing its Asian theme, the new development is also set to be equipped with a series of restaurants, boasting the most genuine Pan-Asian cuisine in all of Sin City.
Visitors will have access to overnight accommodations with a boutique hotel located on site, complete with 204 hotel rooms, 23 suites, and a luxurious, 4,500 square-foot spa.
As the final touch on its Asian inspiration, the facility will also have an exclusive tea garden, headed by Vegas' only tea sommelier, in which players can enjoy tea in an indoor-outdoor lounge area.