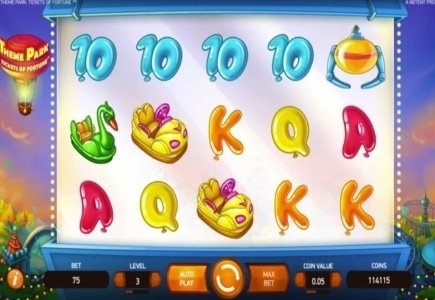 NetEnt is about to embark on an action packed summer of Slots so hot they just might melt the reels! The launches of 'NRVNA: The NXT Experience', 'Theme Park: Tickets of Fortune' and 'When Pigs Fly' are not far away.
NRVNA was initially an exclusive game available at select casinos such as Thrills but will become available to all casinos as of July 12th. The theme and audio create a serene spinning experience, which may not be for everyone. If you are a fan of the provider's Glow Slot then chance are you'll like NRVNA.
The 30-line Video Slot features free spins and the Nrvna Wheel with a boosting multiplier of up to 10x.
NRVNA: The NXT Experience Preview:
Theme Park: Tickets of Fortune is a brand new 50-line game with a fun concept based on a day at the theme park. Visit the Ticket Wheel when three scatter symbols appear. You'll collect tickets with each spin to be used in the bonus game theme park. Each feature, including Duck Shoot, Fishing, Sledge Hammer, Can Tower, Skee Ball and Punch Bag, will make you feel like you're playing to win the largest stuffed bear in the park. Unlike NRVNA, there're a lot more action in this game, which is expected to launch on June 22nd.
Theme Park: Tickets of Fortune Preview:
LCB miss out on a new NetEnt release? Ha, When Pigs Fly! This next game offering 3125 Ways to Win is also due out in July 2016. Pigs aren't sprouting wings and flying through the air. In this game they've built space ships and become astronauts. Each consecutive win will go toward the countdown to free spins. In addition to free spins, players will trigger re-spins designed to increase your chances of for a big win.
When Pigs Fly Preview:
In related news, NetEnt's CFO, Maria Hedengren, has resigned from the company after 5 years. She has taken on the role of CFO at another company; however the company name has not been disclosed.
NetEnt President and CEO Per Eriksson said, "Maria has made a significant contribution to the success of NetEnt over these past years. I will miss our interactions and wish her all the best in her new position."