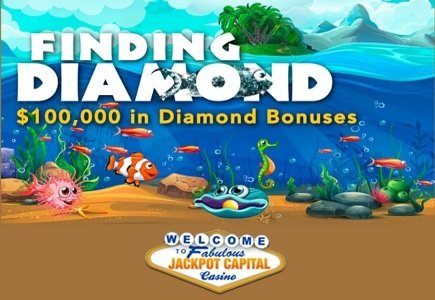 Jackpot Capital is in search of its missing tropical fish, Diamond. Join the search and you could win a share of the $100,000 reward. The Diamond Fish casino bonus event offers players a whopping $20,000 in weekly bonuses!

Casino manager, Oliver Smith, said, "We've increased the number of players that will receive bonuses during this promotion. We used to divide the bonus pool amongst the top two hundred players on our weekly scoreboard. But lately we've been rewarding the top THREE hundred."

Start by earning points for your play in both the desktop and mobile casino to become one of the top 300 players to receive weekly bonuses up to $500 every Monday. Grab a piece of this 15 grand in bonus action until July 17th. Fridays are for random coupons, a total of $5,000 to be exact. Keep an eye your inbox as special offers will be sent via email.

"It's great to pick up a little bonus money during the random Friday Bonus Boosts," said one player who appears on the upper half of the leaderboard. "That gives me some extra cash to work with over the weekend, try to bump myself up into a higher bonus category in time for the big Monday bonuses!"

This casino is home to the best games RTG has to offer including the follow up to Enchanted Garden, Enchanted Garden II.