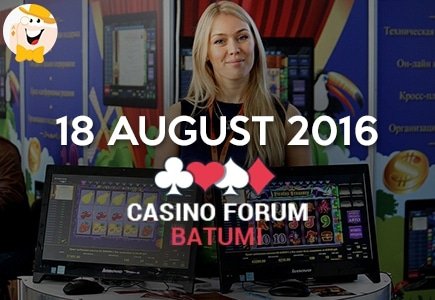 It's an exciting time for the gambling industry in Batumi and the Casino Forum Batumi is scheduled for August 18, 2016 and will cover various issues from investment in the region to taxation and much more.

The one day event will be focused on the discussion regarding operations in Adzharia including its legislation. Opportunities in new gambling areas as well as player acquisition will also be hot topics

There is a lack of underground activity because Adzharia is known for liberal laws and a flexible tax system. Attendees from Turkey, Russia and surrounding countries spend an average of $1.7 billion here per year.

Topics planned for discussion include:

· Success for Batumi as a gambling zone.

· Movement into new gambling regions.

· Local gambling taxation.

· Investing in Georgia gambling and whether it's a viable option?

· The process and cost associated with quality management.

· Increasing casino profitability.

· The pros and cons of Blockchain technologies in gambling.

· Establishing a gambling related business from the ground up including equipment, licensing and software.


Speakers have not officially been announced but will include respected industry folks including investors, government representatives, lawyers and more.

The event will conclude with a VIP party held in one of Batumi's finest restaurants giving guests and opportunity to network and socialize with conference speakers and other guests in a relaxed environment. Guests will be presented with a variety of Georgian wines and dine on local cuisine.

The event is organized by Smile Expo, a company also responsible for the organization of many other Eastern European events like awards, conferences, expos and festivals like the Bitcoin Conference, Russian Gaming Week, Betting Awards and much more.