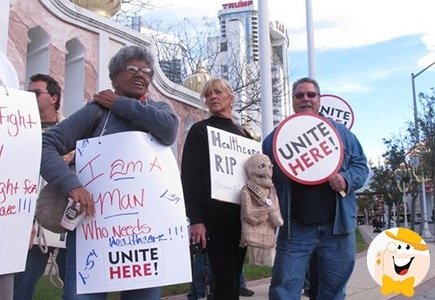 It seems little progress has been made regarding negotiations between Atlantic City casino workers and local casinos including Harrah's, Bally's, Caesars and Tropicana, with over 96% of all voters agreeing to strike against these establishments on July 1st. The situation is a bit less tense when Golden Nugget, Resorts and Borgata are concerned.
After suffering major financial struggles back in 2010, a $100 million budget deficit, the loss of four casinos in 2014, and consequently facing the state-takeover and in-state competition with two new casinos, the city has been slowly recovering over the past two years. But lately, it seems to be on a downward spiral again.
While this was all happening and the city's gambling industry facing imminent disaster, the worker's union offered to give up part of their package in an effort to help the struggling casinos on their road to recovery. Noticing an improvement in the last several months, the workers now demand a fair treatment and threaten to walk out right before July 4 celebrations unless the conditions are met. Many have lost their jobs during the bankruptcy crisis, but those who remained now want what they are due - their money back via increase in paychecks, and vacation time they gave up to keep the casinos in business.
For now, the outcome of this unfortunate situation remains uncertain, with workers holding their ground and casino officials claiming that they are doing everything in their power for both sides to come up with a mutually beneficial agreement - a resolution to keep the workers and continue to support Atlantic City's recovery.