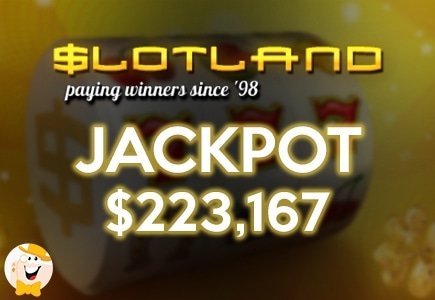 The first jackpot to ever hit on the Air Mail slot was awarded to a very fortunate Samuel J., who had a chance to share the joy for this huge win with his shocked wife immediately after scoring almost a quarter million dollars.

Still in disbelief, Samuel noted this was not a beginner's luck, since he has been a regular player at Slotland for a number of years now, but never managed to win anything close to this. Interestingly, Air Mail was the least played of his favorite games - he has spent much more time playing Super Sevens, Vegas Vibes and Ice Queen slots.

In a conversation with a Slotland Customer Service representative, Samuel stated: ''I was in utter shock. It took me a few minutes before I started to scream! My wife came running into the room, frightened. She thought something had happened to me, until she saw the screen and started screaming with me. I wish I'd had a camera to film her reaction. It was priceless!"

When asked about what he plans to do with all that money, Samuel sad he intends to help out his family: "We're a close knit family and spend lots of time together, so this will go towards the family's needs, maybe a vacation. There's nothing better or more important I would like to do with the money."

During Slotland's 17th birthday celebrations last fall, the site-wide $207,619 jackpot was won on Grand Fortune slot by Charles M - this slot too was linked to one progressive jackpot, as are most of Slotland's one-of-a-kind games.

Slotland has recently launched the latest addition to its versatile content - the Phantom of the Opera slot. Available on multiple platforms, the slot features 5 reels, 30 pay-lines and offers a very wide betting range.