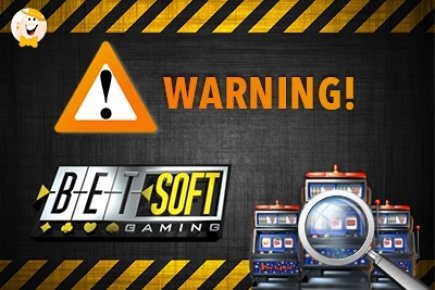 In light of a certain evidence suggesting irregularities in a number of BetSoft's progressive slots, we have decided to issue a warning to all our members not to engage in real money play on any of the following games:

1. Good Girl Bad Girl
2. At the Copa
3. Greedy Goblins
4. Mr. Vegas
5. Slot Angels
6. The Glam Life
7. Tycoons
8. The Treasure Room

These are the games we consider problematic, but there might be more. Namely, the issue concerns certain progressive jackpots that seem to be locked - in other words, they can't be won due to a software error which can either be intentional or the result of a sloppy programming on the part of BetSoft. They deny any problems and continue to claim the games are just fine and working as intended. No official statement has been released by BetSoft yet, despite the fact the company was faced with some strong evidence suggesting the games to be broken.

Thanks to one insightful player and an investigation done by our sister site CasinoListings.com, we have been aware of potential abnormalities in the games since the fall of 2015, but until now, the evidence was insufficient for us to officially issue a warning or taint the reputation of BetSoft and the casinos supporting its software - the whole thing seemed too far out, although suspicious enough to warranty a serious inquiry into the problem.

What served as a catalyst for us and others to advise against BetSoft was a shameful event that happened not a few days ago - a player going by the name Jason was denied a jackpot he won fair and square on the slot The Glam Life at Betcoin.ag casino. This, coupled with the locked jackpots and a few questionable events in the company's past, lead us to advise against playing BetSoft slots.
What are the problems?

The whole thing began back in September 2015, when a Casino Listings forum member BlackjackAA noticed that some of the BetSoft's progressive jackpots at Bovada casino seem to be unwinnable. BetSoft's progressives are not linked to a network with other different slots, neither are the same slots linked to a network between the casinos that feature them. Instead, the games have a standalone jackpots assigned to each coin value or denomination, with the amounts and odds differing between the casinos.

What this player noticed was the fact that some denominations have jackpots that hit regularly, while others are never won, regardless of the number of times the slot was played end even despite it. CasinoListings launched an investigation spanning 9 months, using jackpot tracking software to monitor the jackpots at Bovada and Slots.iv casinos - which are won and how many times, how much they hit for and other facts. These casinos were chosen because they feature the full portfolio of BetSoft titles. In the end they concluded the games are broken.

Some jackpots on specific coin sizes and certain games are never won at Bovada, while they routinely hit at Slots.iv, even though the amount of wagering is much higher at Bovada.

For example- the 5¢,10¢ and 25 ¢ denominations jackpots on Good Girl Bad Girl regularly hit at Slots.iv, but have never been won at Bovada since the tracking started 9 months ago. The odds of hitting the 5¢ jackpot on this slot are calculated to be 1:20,000 - yet it was played at Bovada nearly six million times without hitting whatsoever.

Additionally, the data indicates that in February, multiple slot machines at Bovada exhibited strange behavior that couldn't be accidental, since there was several slots behaving strangely all at the same time. The games that were otherwise regularly won all went without any wins for a period of about three weeks, to suddenly revert back to their previous win frequency at almost the same time.

Finally, on June 14th, a player going by the name Jason won a progressive jackpot on The Glam Life slot 50¢ denomination at Betcoin.ag casino. He placed max bet and managed to land five yacht symbols on a win line during the free spins, which should have gotten him a million coins prize - the paytable clearly stated that 5 yacht symbols on max bet wins the jackpot. However, BetSoft denied to cash out his winnings claiming he didn't qualify for the jackpot because he wasn't betting max on $1 denomination. This was, to say the least, a ridiculous statement given the fact that BetSoft games have separate jackpots for each denomination.

When Jason pointed out this fact to BetSoft's customer service rep, they changed the story claiming the jackpot can't be won during the free spins feature. This was again not true, because the paytable had no rules to indicate any such thing.

On June 26th, BetSoft silently altered the Glam Life paytable to now include this rule: ''Jackpots cannot be won during any other bonus feature''. Not only did they unlawfully altered the paytable to justify their actions, but the sentence is entirely confusing as well - what other bonus features, and which feature does qualify for the jackpot?

Jason has documented the entire problem here: https://bitcointalk.org/index.php?topic=1517648.0 and HERE.

You can check out his winning screenshot here:
The Aftermath


At first, Bovada has denied any problems with the BetsSoft progressives. When faced with certain facts, they got in touch with BetSoft and now they claim to be working on the issue daily. While no other statements have been issued by Bovada until now, they have recently pulled out the affected games without giving any notice.

After reviewing the evidence and due to the facts that Bovada can't seem to set the jackpots odds, as well as the problem not being limited to one casino, we do believe Bovada is largely innocent in this matter, as everything points out to an error in programming, whether intentional or accidental. However, they should issue an official statement on the matter and possibly refund the money to players, since they bothered to remove the games in the first place.
In a Nutshell


As you all know, claims like this are always difficult to prove beyond a reasonable doubt, due to the RNG nature of the games. This has been claimed by BetSoft to be the reason why their progressives appear to display documented abnormalities.

We believe the issue is genuine and should be officially looked into, therefore we advise our members to avoid BetSoft games for now, until more information is available on the subject.

You can read about Casino Listings' investigation and see the altered paytable screenshot