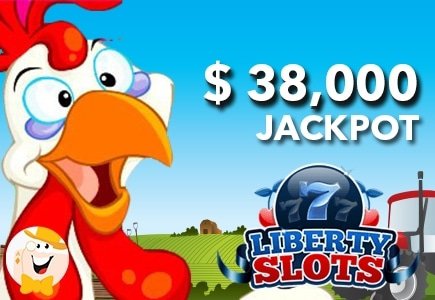 On June 29th, Michael B. deposited $100 and was betting just $3.75 per spin on his personal favorite Funky Chicken slot at Liberty Slots Casino. Luck was on his side that night, because when the free spins multiplier hit, his balance soared up to $1000, allowing him to raise the stakes and risk it all with $200 per spin. After just 25 minutes of gameplay, he went from a $100 bankroll to an amazing amount of $38,000.

"Once you hit the free spin multiplier at that level on this game you're winning some serious money," said Ramirez. "It took Michael all of 25 minutes to take his bank-roll from $1500 to $38,000, all from a $100 purchase! When we contacted Michael to congratulate him on his win he laughed and told us his wife was still angry at him, not because he won, but because she was sleeping when it happened and yelled so loudly when the wins started happening that he woke her up,'' said Mark Ramirez, Liberty Slots Manager.

"I've seen lots of players turn a small deposit into a huge bank roll," he continued, ''But they don't often accumulate so much so quickly!"

Funky Chicken is one of the most popular slots at Liberty Casino - it has a humorous farm-themed gameplay where the focal point rests on the free spins feature. Here, players are awarded with 15 free games and up to a x10 multiplier, which proved to be essential for Michael's impressive win.