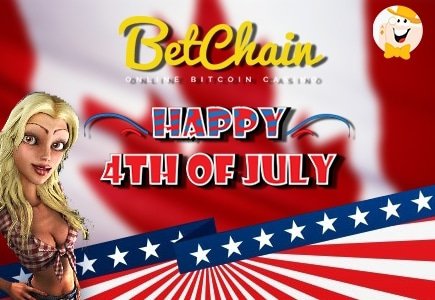 Join Canada and Independence Day festivities, fireworks and excitement without ever having to leave the comfort of your home! Betchain casino is in charge of both parties, inviting players from the north and the south to enjoy two new promotional bonuses.
Celebrate the 150th anniversary of the great white north from Tuesday June 30th to Friday July 1st. Special Canada Day party awards all players with a 150% first deposit bonus, for deposits of up to 0.25 BTC or $/€25 made each day from Thursday until Saturday.
With the Independence Day closing in, Betchain has decided to make all your American dreams come true with another lucrative bonus. All you have to do is make a deposit of either 0.24 BTC or $/€ 24, on Saturday July 2nd or Sunday July 3rd to kick-start the all American way to riches. For extra fun, Betchain has turned each decade of independence into 24 free spins.
This weekend will be very special at Betchain Casino - don't miss out new winning opportunities and a chance to join the amazing Canada and Independence Day party bonuses.