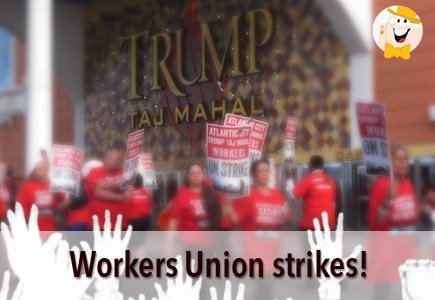 According to the Associated Press, Local 54 of the Unite-HERE Union was unable to reach agreement on a new contract with Taj Mahal casino owned by investor Carl Icahn, and previously by Donald Trump.
As a result, nearly 1,000 cooks, housekeepers, bellmen and other employees will walk off work on Friday at 6am, ahead of July 4th celebrations, to fight for what they deem basic benefits, decent wages and their future.
The workers are still very much upset over the event that happened almost two years ago - when going through a bankruptcy court, Taj Mahal has managed to procure health insurance and pension benefits cancellation, considering them unaffordable to the than struggling casino. Now, Taj Mahal is the only one out of five threatened casinos to be unable to reach any kind of deal with the Union.On Thursday, the Union struck deals with Bally's, Caesars, Harrah's and Tropicana.
The union says it recouped a good portion of givebacks it handed the casinos in past negotiations when their financial condition was worse. In the aftermath of four of the 12 casinos shutting down in 2014, there is less competition for the surviving eight casinos, which are seeing their bottom lines begin to stabilize.
The last time Local 54 waged a strike, in 2004, the walkout lasted 34 days.