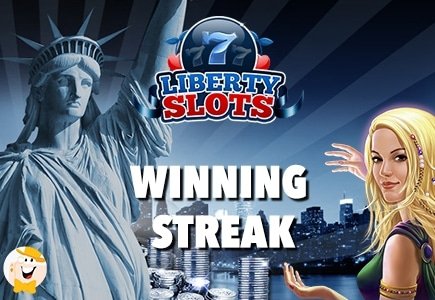 Fireworks illuminated the sky across The United States on July 4th and in the eyes of Liberty Slots player, Adam S., when he made a $25 deposit and ended his Slot session with a balance of $97,000 in winnings following a hot roll on the Mile High Video Slot!

As a regular since 2013, Adam played Slots a couple of times a week on average. He made his standard $25 deposit plus bonus – giving him $50 to play with - over the 4th of July weekend.

"That usually lasts me a couple of hours, which is what I'm looking for" Adam told a customer service rep. "If I get a couple of hits I can stretch it out, maybe even over a couple of days, but for me it's a relaxation thing".

Conservative wagers of $0.20 per spin usually occupy Adam for a few hours but when he increased his bet to $1.25 around 11:30pm, Mile High awarded 5 pilot symbols covering 3 paylines. He also triggered the Select-a-Play Passenger and Hostess bonus, which paid three $6,400 pay-outs on the same spin. That's quite a return on a $1.25 wager.

In less than half an hour, Adam was back at it with another $35,000 awarded during free spins. The winning streak continued on Lucky Lady, Fat Cat and Shaaark!

"All he could say was 'unbelievalble' when we first contacted him to congratulate him" said casino manager Mark Ramirez "We seldom see a winning streak like this so we're very pleased for Adam!"

Embark on a winning streak of your own with a 200% bonus plus 100 free spins on the Funky Chicken Slot. Get started by making a deposit using code 'CHICKENSPINS'.