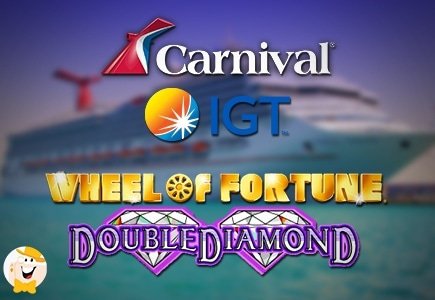 Leading gaming company, IGT, is all set to supply Carnival Cruise Line with its latest Wheel of Fortune Double Diamond 3D video slots. This means that individuals boarding ships on the Carnival fleet will have access to the slots.
This move comes after an initial, but limited, supply of the product on Carnival ships, which proved to be successful. As a result, IGT will roll out a larger collection, which will become available on nine of the cruise line's ships.
Along with lending its games, the company will also collaborate with the cruise line to incorporate a Spin N Sail slot tournament. Guests boarding the cruise line's, Carnival Magic ship this November for an 8-day Caribbean vacation, can participate. It is scheduled to depart from Florida's, Port Canaveral. It boasts a $200,000 prize pool, plus a grand prize of $100,000, which will be awarded to one player.
Qualifying events are slated to be held across the U.S. and Canada, during which winners can score a complimentary cruise for two people, plus an entry into the $200,000 finale tournament.
IGT's Senior Vice President of Sales, Nick Khin, stated, "The cruise line industry debut of IGT Wheel of Fortune Double Diamond 3D Video Slots and our Spin N Sail marketing promotion with Carnival Cruise Line exemplify how we work closely with our valued customers to provide unique and exciting experiences for players."
Khin further added, "This agreement represents another milestone for IGT Wheel of Fortune slots, now celebrating 20 years and more than 200 themes that players have enjoyed around the world."
Carnival Senior Director of North American operations and Global Casino Operations, David Thomas, commented, "We're pleased to add these exciting and groundbreaking Wheel of Fortune 3D slots to our shipboard casinos, part of our year-long Wheel of Fortune celebration. IGT is a valued partner and these new Wheel of Fortune 3D slot machines capture the spirit and fun of the world's most popular game show in a fun and innovative way."