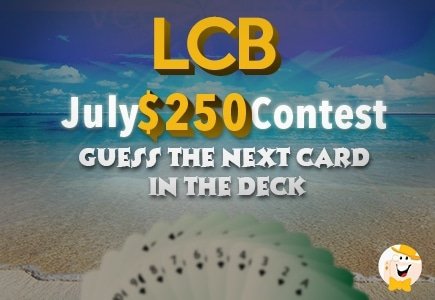 July is in full swing and LCB has created yet another fun contest accessible to members only. If you haven't signed up yet, what are you waiting for? You could win a share of $250 in LCB Shop Chips every month, which may be used for a variety of special bonuses and items in the LCB Shop. We asking you to 'Guess the Next Card in the Deck' to win.
We've nixed the joker in a standard 52 card deck and every day we will pick one card. It's your job to guess the card we're holding. Will it be the 7 of hearts, Jack of clubs, Queen of hearts of something else? Your answers must include the face value and suit in order to be considered a valid entry. In the event that no one correctly guesses which card we've got up our sleeve, we will accept the first member that comes the closest without going over as the winner for the day.
The contest began July 10th and will run until July 24th. So far there have been two fabulous predictions made by two members, wuzziern and eberetta1. There's still time to win Day 3 so start guessing and post your answer
here.
The $250 LCB Shop Cash Prize Pool:
1 - $50 winner
1 - $40 winner
1 - $35 winner
1 - $30 winner
1 - $25 winner
1 - $20 winner
2 – 10 winners
6 - $5 winners
New LCB Shop offers include $10/EUR/GBP/0.05 BTC from BetChan and 10 Free Spins on NetEnt's Nrvna from Thrills Casino.
We hope you enjoy the contest. Good luck to everyone!