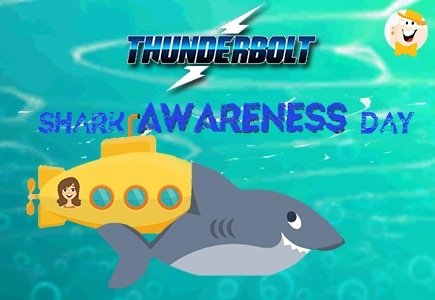 International Shark Awareness Day is 14th July and Thunderbolt Casino has published a shark information page plus they're giving away free spins on various Slots as part of the Shark Day Casino Bonuses promotion.

The goal of Shark Awareness Day is to make people aware of how majestic yet dangerous and endangered these creatures really are. Millions of sharks are killed every year for various reasons including the high demand for shark-fin soup in some parts of the world and commercial fishing practices.

"I've always been fascinated by sharks, especially the Great Whites in our southern oceans," said casino manager, Alisa. "I've gathered up some fascinating information about them – some things will really surprise you I think! Did you know that Great White Sharks rarely attack people and when they do, it's usually because they've mistaken a person for their favourite food, a Cape Fur Seal. Scientists estimate that after a big meal, a Great White Shark can last up to three months before needing another one!"

Thunderbolt Shark Day Casino Bonuses:

· 150% up to R3000
(Min deposit R150)
Coupon code: SHARK-1

· 125% up to R2500
(Min deposit R100)
Coupon code: SHARK-2

· 50 Free Spins on Ocean Oddities slot
Coupon code: SHARK-3+

· 100% up to R2000 + 50 free spins on Mermaid Queen slot
(Min deposit R100)
Coupon code: SHARK-4

· R1000 No Deposit Bonus
Coupon code: SHARK-5

All 5 bonus codes are available from July 14th – 31st and must be used in order.