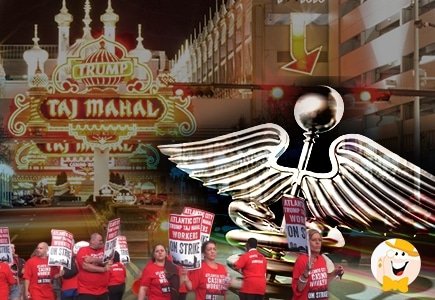 Atlantic City's Trump Taj Mahal Casino is in the spotlight and not in a positive light as it operates without any dealers at the tables. Union members went on strike Wednesday in front of Donald Trump and casino owner Carl Icahn's New York offices to fight against an unsatisfactory healthcare proposal.
The issue revolves around a health care plan and protestors quickly receive warning from Icahn's management team, who essentially said take the deal or it will swiftly be taken off the table - by Monday in fact.
The warning came from Tropicana Entertainment, the company managing the casino on behalf of Icahn. President Tony Rodio sent word to strikers in the form of a letter to Local 54 of the Unite-HERE union. The letter states that the health care plan is no longer an option if not accepted by union members by 5pm Monday.
"Both Trump and Icahn took lots of money out of this property, millions of dollars that could have been used to rebuild it and provide good wages and benefits for workers," said union spokesman Ben Begleiter. "Now Trump thinks Icahn should be running America's economy. If that happens, then all of America's workers are in trouble."
"The company offered to fund a health insurance plan that was offered by Unite Here but was not quite as rich as the plan at the other AC casinos," Rodio said. "But it did provide medical insurance for all union members and their families. In addition, the Taj Mahal would have extended health insurance to all non-union members, as well. This one concession would have cost the company multiple millions of dollars."
Union president Bob McDevitt said, "This company offered them health insurance that was essentially half of what every other property agreed to, including the Taj's sister casino. These workers want to know why it is OK for Trop workers to be able to go to the doctor, but not them?"
Source: abcnews.go.com 'Taj Ultimatum: Take Casino Health Deal by Monday or Its Gone'