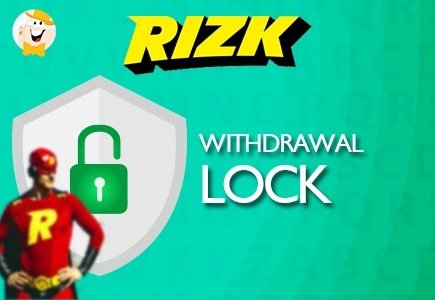 Rizk Casino and its ''No Bullshit Guarantee' are coming along quite nicely and to further drive this point home with players, the brand has introduced a brand new feature known as Withdrawal Lock.
We often see new ideas floating around from casino to casino but never has one had the potential to truly benefit players like this one. Gone are the days of reversing your pending cashouts, if you so choose that is.
The process is simple. Initiate a cashout and then head straight to the 'My Account' tab and click on 'Transactions'. It's here that you'll see your pending cashout with an option to 'Cancel' or 'Lock'. If you choose to lock it, you will be unable to cancel it at any time. While this is a fantastic option for some of us who can't resist reversing a withdrawal in the hopes of just one more big win, players must think twice before selecting this option because once it's done, it's done.
On its website, Rizk said, "In the past it was all too easy to cancel a withdrawal request to continue playing, something you may lead to regret later on. Now though, you can Lock your withdrawal, preventing you from continuing to play and ensuring you always gamble responsibly."
"To Lock a withdrawal, you need to visit the My Account section and click the Transactions tab. You can then choose the withdrawal you wish to lock and click the Lock button. If you want to cancel the withdrawal, you can click the Cancel button, but you cannot cancel the withdrawal after you've locked it. If the withdrawal is marked with "Waiting Approval" it's already been locked and is being processed."
For a visual tutorial of how to use Withdrawal Lock, visit the site to watch a brief video.
We'd like to hear your thoughts on this and whether you would like to see other operators implement such a feature.