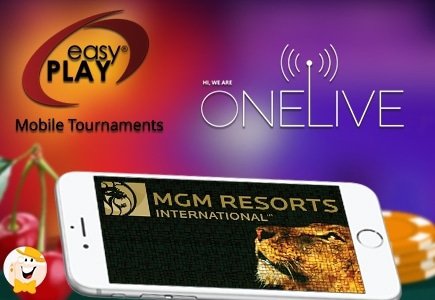 MGM Resorts has gone mobile. More specifically, the brand has partnered with oneLIVE Inc, via the easyPLAY Mobile Tournaments mobile gaming platform, to feature real-money mobile tournaments in 9 of its Las Vegas properties. The tournaments will be powered by each facility's Wi-Fi system.
Las Vegas Strip-goers can expect to find these tournaments available in the following casinos: MGM Grand, Aria, Bellagio, Mirage, Luxor, Mandalay Bay, Monte Carlo, Excalibur, and New York-New York. Each of these casinos, except for MGM will allow players to access the tournaments via InteractivePro Tables. MGM, however, has it set up so that its guests may participate all throughout the facility with the use of their laptop or mobile device.
Tournaments will showcase a number of gaming genres, with titles from developers such as Spin Games, and Touchstone Games. More games will be added over time, but for now, participants can look forward to a fair selection of slots, bingo, video poker, casual, and console games.
Tom Mikulich, MGM's senior VP of biz-dev, describes the mobile tournaments as "extremely user-friendly," offering visitors a new "element of competition."
Furthermore, MGM has referred to this recent offering, as "the first digital and interactive tournament to be offered by a regulated casino in the United States."
This latest addition to 9 Las Vegas casinos would not be complete without a celebratory kickoff. In fact, MGM will be hosting an All Summer Long Winner Takes All Progressive Slot Tournament. Players can gain entry with just a $5 fee, and there is a grand prize of $10k to be won.