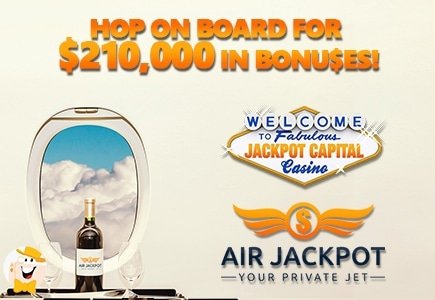 Travel the world with Jackpot Capital this summer during the $210,000 Air Jackpot casino bonus event where $180,000 in prizes will go the top players on the leaderboard. An additional $30k will be paid out as a result of random draws and the maximum weekly Scoreboard bonuses have gone up from $500 to $800!

No matter where this event takes you, players will uncover interesting facts and of course, exciting bonuses. Players must check-in for their flight every Monday by entering a bonus code. You'll begin to accumulate points and climb the leaderboard for playing desktop or mobile games. Each Monday the top 300 players will be rewarded with bonuses worth up to $800. This event will continue each week through August 28, 2016.

As if that isn't enough, the most active players will be in the running to win random bonuses in special Friday draws. You'll also want to keep an eye on your inboxes for another $5,000 in coupons that could come your way.

"We've increased the max bonus this time," said casino manager, Oliver Smith. "Players at the top of the weekly scoreboard each week will get $800! We've also lowered the playthrough."

Check-in online at Jackpot Capital and check your rank on the leaderboard.

Good luck!