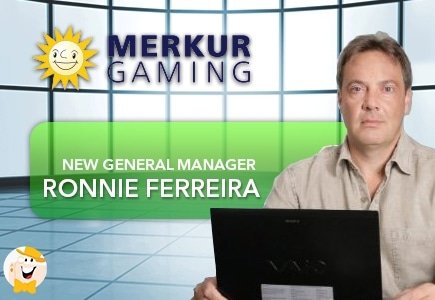 Ronnie Ferreira has just been named general manager of Mexico-based subsidiary of Merkur Gaming. Ferreira is expected to serve as a valuable member of the team, being an experienced gaming professional as member of the Brazilian Association of Gaming, in addition to serving as an advocate of effective gaming regulation in North, South, and Central America. Born in Brazil, Ferreira has over 15 years of experience, having held executive positions for varying suppliers and operators.
In particular, the newly appointed general manager has spent time with Eastern European operator, Ritzio Group, and Cadillac Jack. Also on his resume is time spent with multiple markets, including those in Uruguay, Argentina, Paraguay, Bolivia, Brazil, Mexico, and the United States.
Commenting on his latest position, Ferreira stated, "I am both pleased and honoured to be joining Merkur Gaming Mexico and to be given the responsibility for leading and inspiring what I already know to be an exceptional team."
He added, "Merkur Gaming is known throughout the gaming industry, in Mexico and worldwide, as the team that delivers. My challenge is to build even further on that fine reputation as Mexico itself, with new and more effective gaming legislation being prepared, moves on to become even more of a leading light in the Latin American gaming sector."
Merkur Gaming Americas chief executive Charles Hiten said that as a tier-one company the Mexican business "deserves no less than a top class industry professional with an outstanding track record of success.
Chief executive of Merkur Gaming Americas, Charles Hiten, stated, "In appointing Ronnie Ferreira we have now brought on board exactly the right person. Merkur Gaming Mexico is an extremely important part of our overall development of expansion in Latin America. We are now delighted to attract Ronnie Ferreira to head up our team in Mexico City and to direct them to the new success that lie ahead."