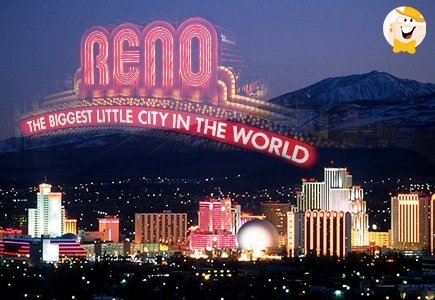 Few areas in the world have such a unique history, passionate life and glorious scenery as Reno Tahoe territory. One cannot help but be amazed at the very possibilities such incredible place suggests - it rests covered in a golden glaze and icy blue waters like an improbable anomaly whose existence seems almost accidental, balancing on the edge where opposites collide. Nestled in the western corner of Nevada, where the cold Sierras meet the hot desert, it is here that you will find the raw remnants of the Wild West intermingled with bold displays of modernity, and subdued qualities of peaceful nature clashing with an unbound joy for life which is infectious as it is exciting.

Exploring the vast landscape of America, it would be a huge mistake to bypass this amazing natural setting, the state's precious Lake Tahoe, world class attractions, activities and events, gambling galore and numerous ski resorts. There's so much to see and do here for those looking for a different kind of getaway, with a capacity to ignite a passion for life and remind you that life is worth living after all. The area encompasses Reno, Sparks, Incline Village, Carson City, Carson Valley, Genoa, Gardnerville, Minden, Topaz and South Lake Tahoe, Nevada, all of which are full of places to visit, attractions to see and fun things to explore.

Fun in Reno Tahoe

When one considers the formidable mountain ranges and dry desert lands surrounding the sparkling city of Reno, it is no wonder many visitors are surprised at how beautiful the scenery here actually is. Located beneath the Sierra Nevada on the California border, Reno is a hot bed of exciting activities and tourist attractions both in the city itself and on the outskirts. The second largest metropolitan area in Nevada and the birthplace of Caesars Entertainment Corporation, the city has a tumultuous history and even livelier present day life, seemingly always ahead of its time. Some of the best casinos in the world, arts, culture and music can all be found in the Biggest Little City in the World that received a major kickstart back in 1930s when the state of Nevada legalized gambling and passed liberal divorce laws. It is today a gambling paradise second only to Las Vegas.

World-class Gambling

Reno might not be as popular as Vegas when it comes to gambling adventures, but it is certainly just as good, wallet-friendly and trailing stubbornly behind it in all the matters of importance. Downtown casino resorts are plentiful and versatile in their offer, accommodating everyone from seasoned gamblers to families with kids. If you're traveling with your kids in tow, the exciting acrobatics at Circus Circus and fun arcade area of Boomtown Reno make this two resorts well-suited to your needs. Silver Legacy, Peppermil and Harrah's Reno resorts are go-to places for serious gamblers with their excellent selection of slots and table games, as well as various poker tournaments. Atlantis has a famous, award winning spa with sauna, massage therapy and a beautiful pool with private cabanas.Sands Regency is best for Bingo enthusiasts, and Eldorado has award-winning rooms and suites.

Busy Downtown

If you find yourself in Reno uncertain of where to go or what to do, simply follow the crowd to the beautiful Truckee River that flows straight through the heart of downtown. The river area is chock full of great restaurants, diners and bars, making it a perfect place to discover the most delicious flavors and enjoy a selection of fine wines. Just like the town itself, most of these places are casual and down to earth, where you can have relaxed and comfy meals. The famous Awful Awful Burger featured on FoodTV is served at Nugget Diner.

It's impossible to get bored here - there is so much happening all the time and all at once, especially the city's numerous annual and monthly festivals with arts, sports, food and native themes.

Visitors can take part or simply stand by and enjoy the kayaking on the Truckee River at the Whitewater Park. Those more into sports can head straight to Aces Ball Park stadium where Reno's famous Aces baseball games take place - this popular stadium was recently renamed Greater Nevada Field. The largest classic cars show in the country and perhaps the world - Hot August Nights is hosted in Reno at the end of July and beginning of August. Fans of racing and biking can enjoy the Great Reno Balloon Race, Air Races and Street Vibrations events, or head over to Virginia City for the Camel and Outhouse Races.

America's biggest ribs and barbecues festival takes place in Sparks every year over the Labor Day weekend. Best in the West Nugget Rib Cook-off is a fun public event sponsored by Nugget Casino Resort, offering an excellent opportunity to eat as many awesome ribs as you possibly can and help select the best barbecue team among over a dozen competing chefs.

Reno is not all about fun and games, however. It may come off as a surprise, but there is love for arts and culture in its heart. As locals would say - ''Reno is Artown''! Recipient of numerous awards for artistic excellence, Reno's annual Artown festival has the whole of July busy with over 400 performing and visual art events.

The Great Outdoors

America's favorite Lake Tahoe is just 30-minute drive from Reno-Sparks, meaning there's plenty of hiking, biking, skiing and swimming just a stone's throw away from the buzzing life in the city. The hot Sierra sun in the summer and beautiful snow-clad meadows in the winter await all passionate tourists to come and taste a bit of this adventurous lands.

Between the excitement of casino floors and city festivals, Lake Tahoe and its surrounding area offer many opportunities to relax or take part in exciting outdoor activities. You can boat, fish or swim in the cobalt blue waters of the lake, and take advantage of some of the best ski-parks in the world. The Lake Tahoe Shakespeare Festival, Music Festival and Chautauqua educational event are perfect family outings taking place over the summer months.

Don't hesitate to take your chances with Reno Tahoe. No matter the reason and regardless of season, it is going to be a getaway filled with surprises, a fulfilling and meaningful time when you'll truly believe that the peak experience of living really is possible.