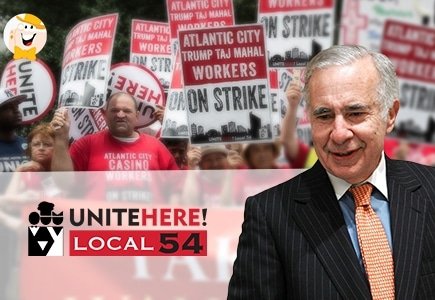 Having been thought to be nearing its end numerous times, the Trump Taj Mahal strike continues into its fourth week, with what seems to be no end in sight. Its hundreds of workers, including housekeepers, cooks, bartenders, cocktail servers, and bellmen refused to accept a contract offer posed by the casino, which reached its deadline at 5pm on July 18th.
While the offer incorporated an improved health insurance plan, it did not measure up to those offered by other casinos, and was therefore rejected by Unite-Here Local 54. According to the group's president, Bob McDevitt, the offer was merely a "shadow" of what other casino employees have been offered in the past.
According to Deb Figart, a professor at Stockton University, as reported by the Press of Atlantic City, "I suspect the strike is not going to end quickly because there is too much at stake. If benefits such as health insurance, pensions, and paid breaks and paid time off are agreed to, then there could be a domino effect."
As reported in the Associated Press, McDevitt continued, "This property is crippled. The longer this company refuses to meet the standards of a decent contract, the more damage is done to the customer base, which will find new homes, as they are doing already. The longer this goes on, the more it hurts the company."
Contract negotiations have been taking place between the union, and casino owner, Icahn Enterprises, owner of Tropicana and the Taj Mahal. However, the two have not yet reached any agreements, and in fact, have not even had any discussions regarding the topic in weeks.
The union has been taking further measures, particularly displayed this past Thursday in front of the Taj Mahal. Hundreds of picketers showed, some having traveled to show their support. This included protestors from unions such as Connecticut, Pittsburgh, Baltimore, Philadelphia, Washington, and New York.