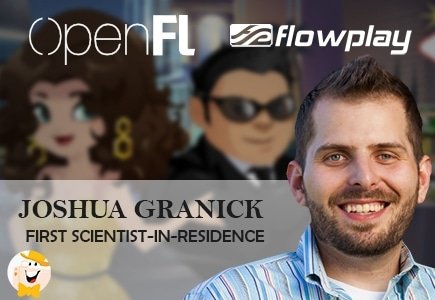 Joshua Granick, has just accepted the role of first scientist-in-residence, at social casino studio, FlowPlay. Founder and managing director of OpenFL, he comes with a wealth of experience amounting to more than 20 years, and accomplishments that are sure to complement the team.
Games developed by the OpenFL platform can be launched on others, such as popular mobile entities like, iOS, and Android, in addition to Linux, Firefox, and HTML5.
The expectation is for Granick to assist in the advancement of FlowPlay's platform. He comes with a long list of other credentials, and has worked for renowned companies such as Intel, HP, and BlackBerry. Prior to founding OpenFL, he held the role of director of innovation at Deutsche Telekom, German telecommunications company.
FlowPlay has recently integrated its mobile offerings to OpenFL, and the company's objective is to completely shift its portfolio in the coming future.
According to Granick, "Thousands of games, technologies and industries are already using OpenFL, and it's a perfect fit to enable FlowPlay's future development plans. By transitioning to OpenFL, FlowPlay has increased the versatility of the company's multiplayer platform while accelerating development times and freeing up more resources to focus on new innovation."
He continued, "I'm eager to become a part of that process and help raise awareness on how OpenFL can help other developers in the casual games industry."
Derrick Morton, FlowPlay's chief executive commented, "OpenFL and the open-source community created an engine that produces the quality, speed and versatility other engines cannot replicate or compete against," continuing, "Granick took the time to build an engine for developers and by developers, and offers the industry an intuitive solution to handle the many challenges game creators face on a daily basis. He is an important addition to our team as we look to expand and advance our gaming platform."