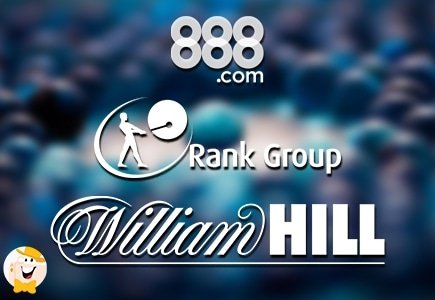 Who knew William Hill was on the market – or are they? Two major gaming groups, 888 and Rank, have their sights set on a joint £3 billion bid to acquire fellow gaming group William Hill.
The companies issued a joint statement regarding their takeover plan, which said: "The consortium sees significant industrial logic in the combination, through consolidation of their complementary online and land-based operations, delivery of substantial revenue and cost synergies and from the anticipated benefits of economies of scale, which will accrue to all shareholders."
While a formal offer has not yet been made, there has been talk about a merger between 888 and Rank before submission of an acquisition bid. The statement continued: "In relation to the proposed transaction, no decision has yet been taken as to whether 888 would be an offeror or offeree company in respect of certain of the steps that may be taken in order to implement the proposed transaction."
The industry awaits a statement from William Hill on Monday, which is expected to disregard the deal. The CEO for William Hill has just been relieved of his duties because of the loss in profit following the launch of a new desktop and mobile platform last year. The company hit road blocks in terms of staying current with technology; however they believe they have a plan to catapult the company into the future.
"Significant challenges remain and in the recent past online has not performed against expectations", said William Hill Chairman, Gareth Davis.
This news follows several previous changes among gambling companies such as the merger between Betfair and Paddy Power. At the moment, Gala Coral and Ladbrokes are awaiting approval for their merger in a £2.3 billion deal, which anticipated to be final in August. Once the approval is handed down, they will give William Hill some serious competition.
Again, nothing has been finalized with regard to a deal between 888 and Rank but the industry will be waiting to hear the thoughts of William Hill.