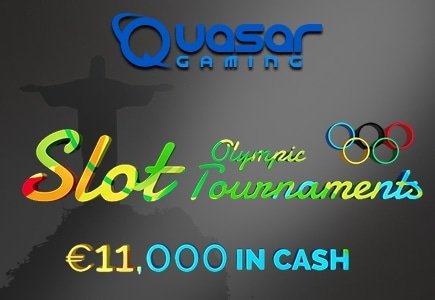 Online casino, Quasar Gaming, is offering up something new to its players. Having begun on July 15th, the casino is holding the very first online Novomatic slot tournament, ever. Licensed and regulated by the Malta Gaming Authority, the casino has titled this exciting promotion, the Slot Olympic Tournaments.
The objective for players is to place bets on the site's most popular slots, make a prediction on the outcome of five different challenges, and enter a prize draw, boasting a €1000 cash prize. Throughout the entire promotional event, players can score their share of €11,000 in cash prizes.
Members can simply earn cash for playing their favorite slot titles. Those who rack up the most wins, will be entered into the running to win an additional €1000, €700, or €300 in cash prizes each week.
The event will begin with a 'Warm Up Challenge,' during which players can take guesses on which slots will be most popular over the course of the next few weeks, within each of the five challenges. Those who guess right on all five challenges will automatically be entered into a prize draw to win €1000 in cash.
There will also be a 'Go for the Gold Challenge.' Winners who make the largest net profit through play and predictions over the course of the promotional period, will have the chance to earn cash prizes each week. €1000 is awarded to the 1st place winner. €700 is given to the 2nd place winner, and €300 to the 3rd place winner.