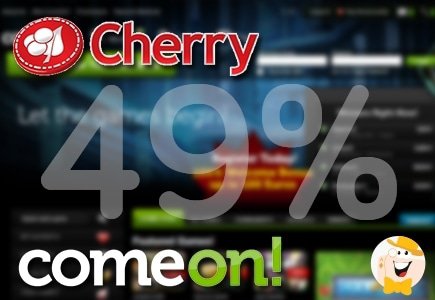 Cherry AB has announced that it has obtained the first 49% of shares in ComeOn Malta Ltd. With this acquisition, the company hopes to promote international expansion, and also strengthen its position in Scandinavia, particularly with brands like Casinostugan, ComeOn, Mobilbet, and Folkeautomaten.
The company has accumulated a total of EUR 80 million, with the 49% consideration paid with 2,901,475 B-shares, and EUR 39.7 million in cash. The matter of shares has been left to ComeOn sellers, while the issue represents a 16.8% dilution for Cherry.
It is predicted that, after financial items and cash flow, the acquisition of ComeOn shares will instantaneously effect Cherry's profit in a positive way. During the period between January 1, 2016, and June 30, 2016, ComeOn reached approximately EUR 48 million in preliminary sales, and reported an EBIT of about EUR 10 million, suggesting that the company's financial performance is what is to be expected for 2016. These numbers have not yet been reviewed by Cherry.
CEO of Cherry, Fredrik Burvall, commented "Now we have completed the acquisition of the first 49 percent of ComeOn, we will, together with ComeOn, initiate the work of maximizing our common values and customer offerings with the goal to strengthen our common operation. It is important that we and ComeOn clearly schedule the process so that when the final integration takes place it will be both swift and efficient."
A final consideration of shares in ComeOn will be paid using both newly issued shares and cash, and Chery is expected to announce its option to acquire the remaining 51% in ComeOn, which can be completed during a second period, from October 1, 2016 to December 31, 2016.