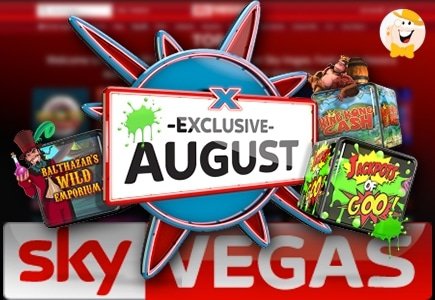 Sky Vegas is hosting its first-ever, Exclusive August promotion. This month, members can look forward to all kinds of excitement throughout the coming weeks. More specifically, players can look forward to new game launches all month-long.
Over the course of the next five weeks, members will see a variety of goodies popping up, including lucrative bonus rounds, along with fun, new characters introduced. For starters, the site plans to unveil its friends, Jackpots of Goo. There is certainly an interesting theme being put into place. The slimy, Jackpots of Goo creatures bring about slot games, while also delivering a 5-stage trail, which begins at 'Crack Pots,' and ends at 'Slime Wheel.' The trail boasts endless opportunities to boost player accounts.
The site will also be implementing a Jackpots of Goo Instant Win opportunity, during which players will be given the chance to fire the goo-cannon for three matching jackpots to win. The goo-meter will fill up during play, and can award bonus cash.
Big plans are in order for next week, including the introduction of all kinds of new creatures, plus a big event scheduled to take place at the end of the month.
Players can take advantage of past, present and newly added games and offerings until the end of the month. New details will be added to the 'Promotions' page on a regular basis, so players should keep an eye out.
Sky Vegas delivers an array of gaming categories for its members to participate in, including casino games, slots, poker, and sports betting options.