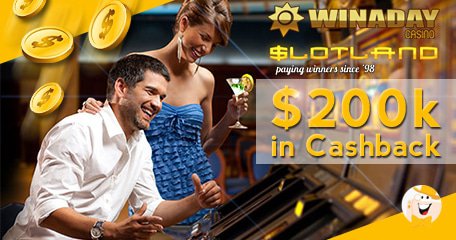 Over the last 4 years LCB'ers have claimed a bit of cha-ching from our Cashback Program with Slotland and WinADay and we are thrilled to announce that an incredible $200,000 has made its way back into your pockets!
Four years ago we got together with these two casinos and established an exclusive cashback offer designed to give you 20% cashback on deposits.
Claiming cashback requires a lot of communication (4,000+ forum posts worth) but luckily we have a fantastic moderator, Blueday, who has managed this whole thing from the very start.
What would this exciting news be without a comment from Blueday, right? She said, "Slotland and Winaday have been giving away $50 cashbacks exclusively to LCB members since August 2012. Players post their deposits and are awarded with a $50 cashback for every $250 deposited. 20% of every deposit goes back in their account. Members' children, grandchildren and great grandchildren have been born and celebrated in the lifetime of this cashback offer!"
Michael Hilary, the manager at these two casinos, said, "It's been great working with Blue over the years. It can be a big job going through all the forum posts and letting us know who to give cash back to. She's a total sweetheart!"
Over the last 17 years, Slotland has produced 41 one-of-a-kind games, most of which are accessible via iOS and Android mobile devices.
Our relationship with these two US friendly casinos has also led to exclusive offers for new sign-ups. Claim $66 free at Slotland and $68 at WinADay to get started. Check out the selection of proprietary games, including slots, table games and video poker, and make your first deposit to start claiming cashback twice a week right here with us.
If it ain't broke don't fix it so we're on the road to another amazing four years of profit for LCB'ers!