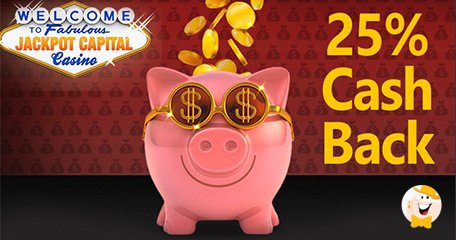 Every gambler has their fair share of bad luck but this month you can't lose at Jackpot Capital with their 25% cashback offer.

"Everyone knows you can't win them all," said casino manager Oliver Smith. "But since we hate to see a player make a deposit and walk away with nothing, we've decided to give them back some of the money they've lost so they can try again."

Players who deposit and end up with a balance under $.50 can will receive 25% of their deposit back within 7 days. Claim your cashback by contacting the support team at info@jackpotcapitalsupport.eu.

The $210,000 Air Jackpot bonus event is also in full swing until the end of the month. You'll accumulate points for all your play in the mobile and desktop casino and move up the leaderboard. The 300 players with the highest scores every Monday will be rewarded with up to $800 in weekly casino bonuses.

If you don't make it into the top 300 you're still eligible for another $5,000 in random bonuses handed out every Friday. Once this promotion is wrapped up, the casino will have awarded $180,000 to frequent players and an extra $30,000 awarded by random draw.

There's still plenty of time to get in on the final two travel destinations in this event.