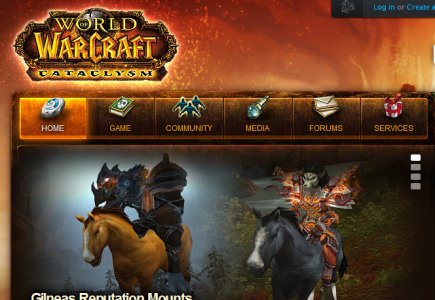 Online gambling covered in a federal appeals court decision on internet gaming bots?
A new report issued by the legal publication Law.com states that the Ninth Circuit U.S. Court of Appeals decision to shut down a bot used for internet gaming on the famous "World of Warcraft" website has given food for thought to the US lawyers.
"World of Warcraft" owner Blizzard Entertainment initiated the court proceeding, which ruled against Michael Donnelly's Glider bot, which plays the game "World of Warcraft" on autopilot for its users in their absence on other activities.
The conflict between Blizzard and Donnelly's MDY Industries began when the developer created the Glider bot for his personal use, and then later began to sell it to Warcraft gamers under his company brand. To block Glider, Blizzard then launched another program, Warden, thus beginning a whole development war with Donnelly as a result creating a counter-program to Warden. Reportedly, the Glider project earned Donelly's company some $3.5 million in revenues.
In the court's opinion, the Glider program violated the Digital Millennium Copyright Act because it circumvented technology designed to protect copyrighted material. It was added that users do not actually own their software but merely license it and as a result, the software licensing agreements were breached by users of the bot.
On a more controversial note, in overturning an earlier decision by a subordinate court in Arizona, the court of appeals assessed that using a bot does not in itself amount to copyright infringement. This means that in that case software copyright owners like Blizzard would be enabled to initiate proceedings on grounds of copyright against any "disfavoured" conduct by a licensee.
It seems to be a widespread belief among legal minds that this court's decision provides companies with an effective way to prevent other entities from abusing their software. This ruling in addition allows Blizzard to seek contract damages for violation of its software license agreement. However, it still denies them to claim large damage awards and injunctions which are usually granted for copyright infringement.
Law.com learned from one of the litigators that the decision will be used as a guideline for drafting software licensing agreements, adding that it will help ensure that deals are tailored specifically to make it easier to file claims against unauthorized add-on programs, such as bots.
But there are adverse opinions, as well, since some experts find that the decision actually represents a positive move for bot builders. One of those is Neil Smith, an IP partner representing video game companies, who said: "They don't have to worry about violating copyright laws now," adding that that by taking away the threat and fines of copyright infringement, the ruling could actually encourage companies to start making add-on programs and smart phone application developers to develop bot software. In the end, he believes this could turn out to be a sounder strategy for gaming companies to allow add-ons and raise extra revenues by imposing a fee.
Law.com learned from social media game maker Zynga, widely known for its wide offering on Facebook, that it will block unauthorized programs from being used on its games.
According to the company spokesman Jay Monahan, there's a number of ways for gaming companies to take action, such as breach of contract or cyber-tresspassing. "The [Ninth Circuit U.S. Court of Appeals] ruling is in no way a green light for applications that want to access websites contrary to their rules," he assessed.
However, this case may still be continued, as this decision is adverse to the one copyright laws interpretation of the Federal Circuit court. Therefore, this issue will likely find itself before the the US Supreme Court for a final resolution.