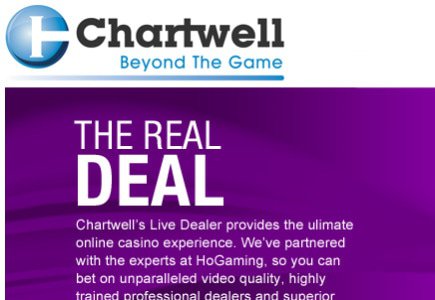 Showcase at ICEi
A new addition to the wide offering of the Canadian online gambling software developer Chartwell Technology has been announced this week, along with reports that the new games will be showcased at the ICEi exhibition next week.
The company's last year's releases struck a chord with players, and the company hopes the latest additions to their games suite will see the same success.
The four new slots released by the company include:
"Bars and Bells" featuring the traditional symbols from classic slots, along with an innovative Streak Breaker feature, explained by the company spokesman in the following way: "With the optional Streak Breaker bet, players bet and win every time they have five consecutive zero spins; thereby maintaining a positive experience during game play. It's unique within the industry and has been extremely well-received in player focus group studies."
There is also "Draco's Fire" slot, which presents a medieval dragon theme, featuring a free spin bonus, along with stacked holding wilds.
"Sinful Spins" is a slot where players meet a she-devil gatekeeper of a player-controlled interactive bonus feature, in which digital sound effects, and the music accentuates Lola's character within the game.
Last but not the least comes "Angel's Touch", where pin-up type of characters offer an engaging and interactive pick-a-prize bonus round.
All these new releases are launched on Chartwell's new Rapid Game Deployment platform. In addition, the Calgary-based company has also introduced a novelty by redesigning its back office software CyberBoss 5, which is well known for a high degree of flexibility and control over the operation and promotion of operators' sites.
Chartwell Games CEP Dan Phillips on this occasion stated: "We are extremely excited to start 2011 with such a strong release of innovative slot games."