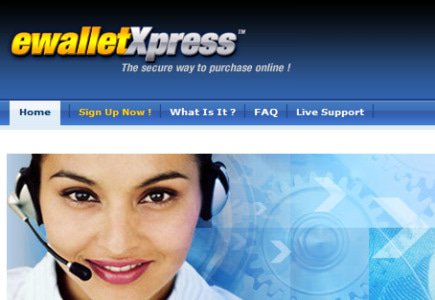 On November 12th 2010 a dark cloud cast over US online casino players when trying to process a transaction with Ewalletxpress. US customers scampered for answers when site initially stated down due to "upgrades" followed by "technical" difficulties. Customers took keen notice of the drop down menu to deposit had disappeared. Among much speculation, rumors escalated the impending doom of yet another processor confiscated by US authorities.
The all too familiar shut down of processors in the recent past has come to surface yet again. This leaves the US player with limited access to transfers funds. US authorities have cracked down hard on processors, including credit cards since the Unlawful Internet Gambling Enforcement Act (UIGEA) of 2006. The law does not state it's illegal for US players to gamble on line, it is however illegal for third parties to process transactions to casinos. This has been a blockade for players as processors slowly dwindle.
A statement of Ewalletxpress had this to say; "At this point we must regretfully inform you that our funds and accounts were seized by the United States government as part of a confidential investigation. We have contacted the US investigating agencies and are currently negotiating with them. At present, eWalletXpress.com is unable to access these funds or return them to you because the money is no longer in our custody or control.
We apologise for any inconvenience this may cause. Due to the sensitivity of the situation we were not able to notify you earlier and we do sincerely apologise again for any inconvenience you may have suffered. We are grateful for your patronage over the years and are trying our best to resolve this issue quickly."
It is uncertain at this point when and if customers will have funds in their account released. For some, thousands of dollars are hanging in the balance. The American gambler is outraged as they fight for the right to gamble online with a bill to overturn the UIGEA ban. New Jersey is the first state that has recently voted and passed a law allowing online gambling.
The road to redemption is a long one before all states are allowed to gamble online once again. Barney Frank, chairman of the House Financial Services Committee has been instrumental in pushing for a bill that would legalize and regulate Internet gambling. It has been an uphill battle that has progressed slowly in congress. Some states have legalized sports betting and gives promise as a whole for the rest of the gambling community.
For a super power country whose bells can be heard for "let freedom ring" leaves little faith in the American peoples perception of what freedom is. The haunting accuracy from George Orwell's novel Nineteen Eighty Four in which "Big Brother" is watching you, heralds a prophetic truth.