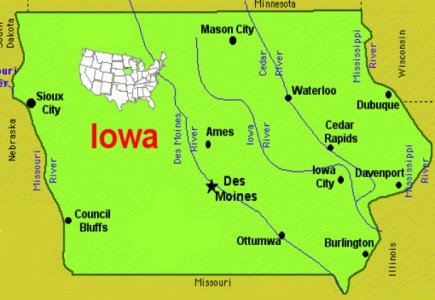 Iowans don't want online gambling legalized in their state
After the poll results published in the regional newspapers Des Moines Register, legislators who advocate online poker in Iowa might have to start off a new and strong educational campaign to legalize the pastime. The poll which was done by local company Selzer & Co. Inc in mid-February, asked 800 citizens of Iowa the following question "Should the state legalize internet gambling for adults?"
As much as 73% of interviewees were against the idea enunciating anxiety and fears of addiction. Also, the question is whether minors would be completely safe from internet gambling. Just 23% voted for the proposal and 4% were ambivalent. Contrary to expectations the poll results pointed out that an abounding majority of residents between 18 and 34 years of age are against online gambling: 61 % disagree with the idea and 36 % is on the side of the proposal. But it was also proved that the negative attitude towards the online gambling would be more extreme among older citizens: those opposing among people aged 35 to 54 reaches 76%. The trend continues for older Iowans, so 80% of people aged 65 and over are against the proposal.
Since the security of minors is the biggest concern, Kirk Uhler of US Digital Gaming explained that, according to the new bill proposal, presented by Sen. Jeff Danielson, the gamblers would be obliged to present a Social Security number and driver's license number as a proof that they are adults. He also added that the numbers will be verified at the direct interlink, explaining that it's the same system used in online banking and stock trading.
Sen. Jeff Danielson's bill introducing the legalization of intrastate online poker was presented just before the poll results. Even though they weren't positive, he clarified that he would endure because he believes that once people are familiar with the details of the proposal, more will defend it. He said, "It's very narrow and good public policy." His bill passed the State Government Committee and if a discussion in a subcommittee is successful, it'll become a Ways and Means bill, but it won't be a matter of debate before April 1, and in the course of time it will get to the state House and Senate.
Iowa governor Terry Branstad has a deciding role in online poker legalization in the state. He pointed out that the bill might be welcomed in the state but only if the safety systems against cheating and abuse are ready. He stated: "I'm certainly not advocating it. ... I guess my feeling is we need to be very careful about expanding gambling." Before any decision, he made it clear that he ought to cautiously read the final version of the proposal. Land casinos in Iowa that have big financial roles in the matter aren't behind this bill, and many activists are still doubtful about it.
More details on the poll results: http://www.desmoinesregister.com/article/20110322/NEWS10/103220348/-1/ENT06/Online-gambling-Iowans-say-no-poll-finds