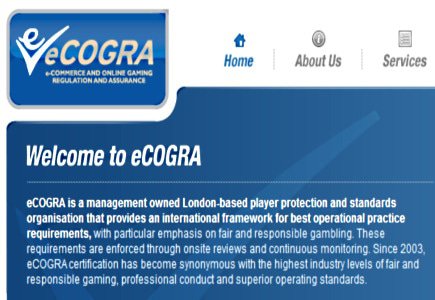 Management buy-out of the player protection, software testing and standards body
The latest major industry buzz refers to the management buy-out of the London-based player protection and standards body eCOGRA, led by chief executive Andrew Beveridge. It has been specified that the new ownership structure will not include software or other service providers or operators, and that thanks to this development, the organization will become truly independent when it comes to its audit, advisory, compliance and seal awarding activities.
According to this week's announcements, the original founding members of eCOGRA, three major and competing online gambling groups, have agreed to the change, noting that "the company has established itself as a credible and respected industry player with major business connections since its launch in 2003, and that it is now appropriate that the founding ties be severed, allowing eCOGRA to make its own way in the world of online gambling."
It was stated by Beveridge that "the industry is maturing, and eCOGRA must be part of that evolving process. The trend toward national or state regulatory regimes around the world is just one of the areas in which our professional services are increasingly in demand by companies and jurisdictions committed to ensuring that they are well prepared in all respects to meet the highest international standards."
"We will continue to offer unbiased player dispute mediation through our Fair Gaming Advocate, and our TGTR outcomes-based software monitoring system is proving increasingly popular with non-accredited entities and will if anything be expanded," he said.
His statement also reads: "Our policy of independently assessing operators for the award of the Safe and Fair seal, and subsequent review and monitoring activity, will remain in place, and the provision of professional business services and advisory consulting remains a key element in our commercial offering and will become an increasing important part of the services offered..
"Importantly, our strong commitment to responsible gambling will continue, specifically in our operator training initiatives and the requirements enshrined in our standards."
"Going forward eCOGRA intends to become a major force in helping shape new gaming regulations, offering specialised advice and assistance to existing and emerging jurisdictions and at the forefront of establishing industry standards".
He also pointed out that the MBO managed to bring eCOGRA's former Independent Directors onto the new Board: "Our chairman will be Michael Hirst OBE, supported by a directorate that includes Bill Henbrey, Bill Galston OBE, Frank Catania and myself," said Beveridge, adding: "We are very fortunate that these highly experienced and respected figures in the industry will continue to make their considerable knowledge and business expertise available to us."
Another statement came from Michael Hirst, who reminded of the original mandate of the eCOGRA Independent Directors – which was to continually improve the credibility of the industry, ensure players were properly protected and develop appropriate standards and regulations. "Those basic principles will remain our goal in addition to increased competitive commercial activity," he said.
As a body supplying compliance and advisory services, eCOGRA's estimated number of reviews for 2011 is to reach almost 100, whereas monthly payout percentage and randomness reviews will be performed for over 300 remote gambling sites.
The key areas that will be addressed by eCOGRA compliance work in terms of onsite reviews at the operator and software supplier operations:
1. The protection of vulnerable customers
2. The prevention of underage gambling
3. Combating fraud
4. Protection of privacy
5. Fair gaming
6. Accurate customer payments
7. Responsible marketing
8. Customer satisfaction
9. Safe operating environment
Its services are used my some of the biggest companies in the market, including 888, bwin, PartyGaming, Ladbrokes, Unibet, Fortune Lounge, 32Red, Partouche, Expekt and BetClic.