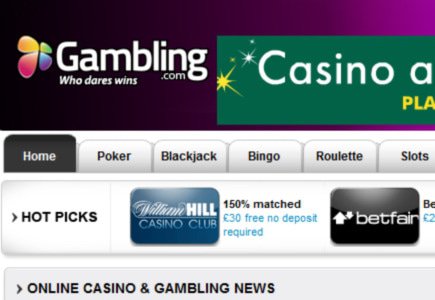 Unidentified UK company buys perfect gambling domain
Judging by the difference in the price paid by the UK-based Media Corporation group for the domain Gambling.com back in 2005, and the one for which it was bought now, the values of perfect gambling domains seem to drop, perhaps due to the effect of the UIGEA and an inexplicable penalty imposed by Google, which was lifted in 2009.
Namely, the price six years ago amounted to $20 million, whereas now the same, perfect gambling domain was sold for $2.5 million. Still, the almost tenfold smaller sum didn't prevent Media Corp's chief executive, Justin Drummond, to state that he is "very pleased" with the sale, which was brokered through the domain marketplace Sedo.
"The sale of Gambling.com brings a significant boost to the group's already substantial cash reserves," said Drummond. "We have recently seen a number of exciting acquisition opportunities in the online gaming and online advertising space. The successful sale of Gambling.com has given the group more than adequate financial resources to pursue these acquisition opportunities aggressively."
However, the price reached by the popular domain is much lower than that paid by Bodog Brand for the purchase of Slots.com last year ($5.5 million), but it still exceeds by far the sum of $1 million paid by PokerCompany.com for the Poker.org domain, also last year.
It's still not known who bought the domain, but Sedo commented that the UK-based company will be "...well placed to capitalise on the benefits of such a memorable keyword domain considering the health of the online gambling market in the UK."