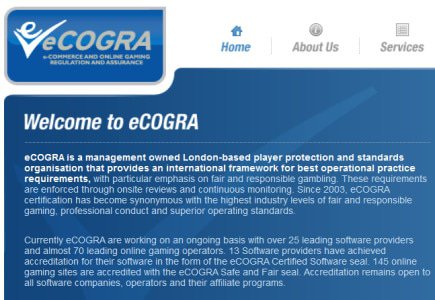 Accreditation for remote gambling standards and player protection body
Two major goals have been fulfilled for eCOGRA recently, as the independent player protection and standards body servicing the international remote gambling industry successfully qualified as a testing agency with the Italian regulator AAMS, and saw its systems approved by the International Organisation of Standards (ISO) on July 22, 2011 under the reference ISO/IEC 17025:2005 : General Requirements for the competence of testing and calibration laboratories.
As for the Amministrazione Autonoma Monopoli di Stato (Autonomous Administration of the State Monopolies) or AAMS approval, by receiving it, eCOGRA has been enabled to provide its testing and monitoring services agency for remote gambling platforms, random number generators and gaming operator applications for compliance with the technical standards issued by AAMS.
According to Andrew Beveridge, chief executive officer of eCOGRA, "Promoting the values of commitment and self-regulation, and preparing remote gambling companies for the national regulatory systems now evolving, remains a critical part of our business, and eCOGRA will continue to pursue testing agency approval in other emerging jurisdictions to ensure that we can provide a full-service offering which meets all of our client's regulatory compliance needs."
He also added that new jurisdictional approvals are expected soon, and that eCOGRA is "open to approaches from both existing and new clients interested in the regulatory requirements of the emerging licensing jurisdictions, and how to meet these."