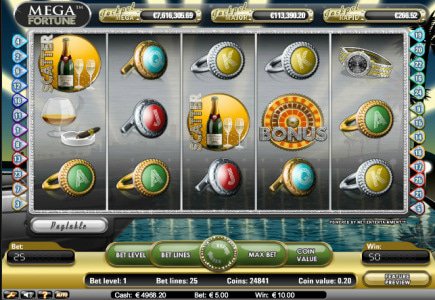 Massive jackpot goes to a young Norwegian
The long anticipated winner of the biggest progressive jackpot ever, EUR11.7 million, has been announced on Sept. 25.
The Net Entertainment's progressive slot MegaFortune jackpot has finally been hit by a yet unidentified Norwegian player at the Betsson online casino.
The man is reportedly a student from Hordaland, Norway who decided to try his luck in the early hours of Saturday morning. In his Betsson account he found 10 free spins on Mega Fortune, and he won 46 Norwegian kronor with which he played another 11 rounds before hitting the massive jackpot on a Euro 0.50 spin.
It has been reported by Betsson management that the young player's first reaction was: "This is unbelievable, I didn't believe it and had to call my brother and a few friends. It hasn't really sunk in yet.
"I couldn't sleep until 6 am due to the shock! I woke up at 7.00 am again. It was just impossible to sleep, and I am shaking and sweating. I haven't thought about what to do with the winnings. I need to try and calm down before even thinking of what I do with the money!"
"I usually play in Betsson's sportsbook, but I saw the huge sum of the jackpot and thought 'Yeah! Let's give the free spins a shoot and see what happens'. It was a shocking experience when Euro 11.7 million dropped before my eyes", he added.
"Not even in my wildest fantasies did I ever think I would win that Euro 11.7 million jackpot. But it has happened and I am over the moon about it."