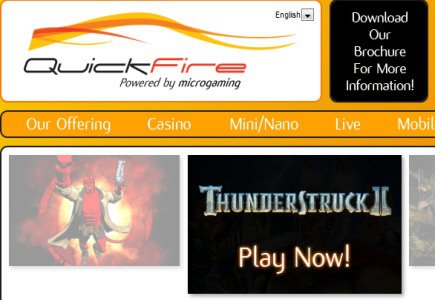 Microgaming platform raises the bar
An announcement came this week that the first multi-player online casino game in the Microgaming's Quickfire division will become available before the end of the year. The announcement also contained information that of all Quickfire operators, Bet3000 would be the first one to launch it.
With this new game, Microgaming is raising the bar in terms of social gaming in online casinos. The game is based on Microgaming's famous Premier Roulette and it will enable players play alongside up to four other players on 20, 40 or 60 second tables.
According to Quickfire spokesperson Ashley Sandyford-Sykes, "Gaming is shifting so quickly and players' demands are changing fast. Social gaming is becoming increasingly popular and Multi-Player Roulette brings a community feel to a relatively traditional game, replicating the land-based atmosphere in the players' own homes. This will be a new product line for Quickfire and it will work alongside our current Quickfire Flash casino, mobile, live dealer, mini and nano games."
As for the Bet3000, its director of affiliate marketing, Ellen Learmonth, assessed the new Quickfire product as a valuable development: "The community bonuses and chat application will improve player engagement and enhance the overall gaming experience. We think the games will prove to be very popular with our customer base, as they appeal to socially active players," she opined.