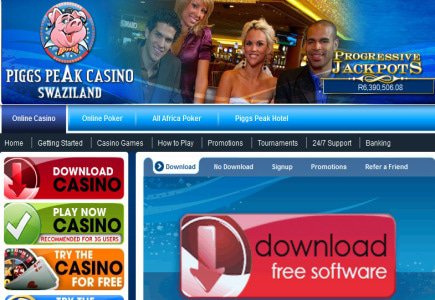 Operations from Swaziland on shaky ground
The latest news from Casino Enterprises, the owner of the Swaziland-based Piggs Peak, the famous venue is going to cease its operations at the end of November, causing some 50 people to lose their jobs.
The decision to shut down the casino comes in light of the recent court decision to support the case of the South African National Gambling Board over Casino Enterprises, ruling that offering online gambling to South African residents over the internet was illegal.
The case lasted for over a year, only to end with the bitter defeat of Casino Enterprises and notifications to South African players, advising them that the casino could no longer accept their action in view of the court's decision.
As for the Casino Enterprises communication to employees, it reportedly reads:
"We will continue to operate fully at least until the end of November as per the previous staff meeting we had with the directors. The directors will be in Swaziland next Tuesday (today) afternoon to address us in a staff meeting on the way forward."
So far no comment has been made by Pigg's Peak's Swaziland branch manager Muzi Dlamini, who now has to deal with the complaints filed by Pigg's Peak Online Casino employees who have written to the labor commissioner in regards to forced exit packages they believe are grossly unfair.
The letter reads: "As a matter of urgency, we humbly request that you intervene in our current situation which was characterised by grossly unfair labour practices which the company has carried out with impunity over the preceding years.The employees were offered voluntary exit packages, which they allege were issued on short notice. The company has never entered into nor attempted to negotiate any sort of retrenchment/redundancy packages with the employees. We were simply given an offer and told to sign."