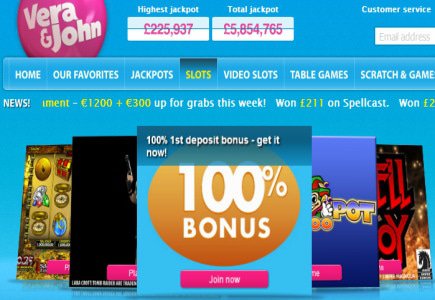 Lucky Norwegian takes EUR177,000 in a single night
Vera&John casino made an announcement this week, reporting of an extremely lucky night for one of their new players, who joined the casino after he saw a TV ad for it – and won much more than he bargained for!
On his lucky day, a Norwegian player identified as Olav decided to try out a number of slots, and they all turned out to be very generous to him – he won over EUR12,000 on Fruit Case, more than EUR24,000 on Flowers, and around EUR25,000 on Retro Groovy 60s. But this was all petty cash compared to his next win, hit on one of his favorite slots, Secret Code, which brought him massive $EUR199,754.
In a comment on his win, Olav said: "I have not quite realized what has happened yet. I need to see my bank statement before I really understand what has happened."
Asked what he thinks he will spend the money on, he stated: "It's only been a few hours since I won so I have not had time to think. But renovating the apartment and pay off some loans are the first things that come to mind."
And as far as Vera&John Casino is concerned, the lucky punter assessed: "Vera&John will surely be my favorite place to play in the future, without a doubt!" And considering the EUR177,000 that he won there, it's really no wonder he'll continue playing in this reputable casino.