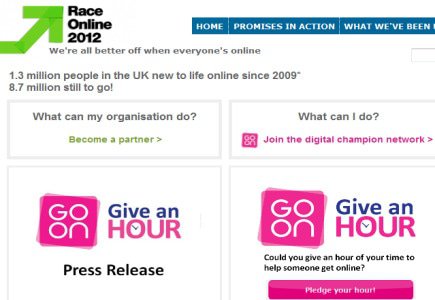 UK's internet literacy initiative attracts positive attention
Positive initiatives trigger lots of support and positive attention. It's as simple as that. A good proof of this is the recent UK internet literacy campaign titled Race Online 2012, which noted support from numerous industry players, including big names such as Mecca Bingo, Sky, BBC, Lloyds, Microsoft, BT and the Post Office.
The aim of this government initiative is to encourage consumers to use the hour of their time, when the clocks are being turned back on Oct. 30 to teach others how to use the internet. Also, on October 31, the staff of ninety-nine Mecca bingo clubs across the UK will hold internet taster sessions in support of the campaign, offering free tea and biscuits for early starters.
According to UK Digital Champion, Martha Lane Fox "There are still 8.7 million people in the UK who've never made a free Skype call, explored and expanded their interests or got a great deal online. Yet, it's impossible to imagine life without the web for anyone who uses it regularly.
"We live in an age where "digital" is a vital life skill: as basic as knowing how to read and write. 90 percent of new jobs require it: you're 25 percent more likely to get work when you have web skills and once in work you'll earn up to 10 percent more. It's simply unacceptable that so many people are still unable to benefit from what the web can offer".