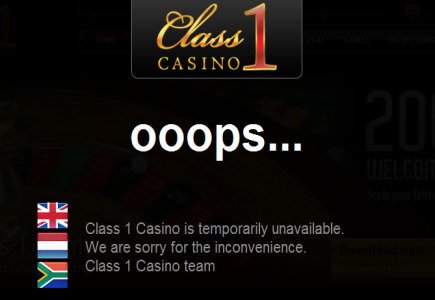 Operator blames Playtech for the cessation of operation
The recent player reports that something strange has been going on with Class 1 Casino and concerns expressed due to the sudden shutdown have finally been answered by the company which sent an email addressing the its current state of affairs.
The statement expresses the company's regret that it had to temporarily stopp taking deposits and bets from all players on October 11th, 2011.
However, it explains that the shutdown was caused by a "unilateral action of Playtech without any prior notice and at the same time grave breach of the contract from the side of Playetch. Throughout this action, Playtech has decided to shut down gaming servers and prevent all gaming activities in Class 1 Casino."
In order to resolve the issue and get the site back up, Class 1 Casino management is still taking legal actions, the company informed players, apologizing for the delay in communication to players and explaining that it wanted to make 100% sure it made all the possible attempts to resolve the issue before alarming players.
In conclusion, the statement reads: "We are in the process of handling players who, by the time of the closure, had positive balance on their casino account and we will make sure that all our obligations towards the players are fulfilled completely.
"We would like to apologize for any inconveniences and we are kindly asking you for your understanding. We sincerely hope that we will be able to offer you our gaming services again in the future and thank you for all your support in the past years."
So far, no statement has arrived from Playtech to explain the move, which is believed to be related to the Italian online gambling market, where Class 1 Casino operates successfully, but without the local AAMS license.