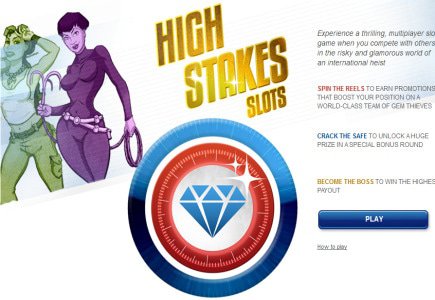 Social internet games developer presents new online title – High Stakes slot
A new addition has joined social internet games developer Yazino's suite of games when it has launched a new slot, High Stakes, using real-time multiplayer technology.
The 5-reel, 20-line slot game slot, available on the Yazino site and Facebook, introduces an interesting twist to the game, as it lets up to 10 people compete as a team of jewel thieves who need to crack the code and steal the gems.
According to Hussein Chahine, Yazino's founder and chief executive, "Slots games are the simplest and most popular casino-style games on the web. We took the slots game mechanic and complemented it by adding a real-time multiplayer dynamic for live social gameplay and the ability to team up or challenge friends.
"High Stakes takes a game that millions of players already love and turns it into something more fun, more exciting and more rewarding."
The point of the game is to reach the higher ranks and become the Boss. While they're playing, players receive bonuses for their progress. Hence, the more a player participates, the higher his or her bonus becomes and they thereby get an extra boost needed to open the safe and escape with the jewels it contains.
Finally, when someone guesses the final digit on the safe correctly, the top six members of the team get paid based on their rank and bonus.