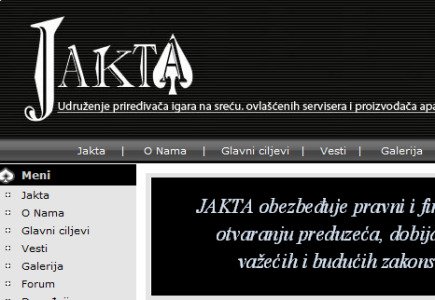 JAKTA claims its lobbying effort has become fruitful
An announcement arrived this week from JAKTA, a Serbian trade association that represents the interests of Serbian gaming operators, authorized technicians and producers of slot machines and equipment for games of chance, that it has succeeded in lobbying for the government to regulate internet gambling.
These online gambling advocates lobbied with the Serbian Gaming Board for legalisation, and claim credits for a new law that was passed late November and which envisages regulation of the industry. At the same time, the government is trying to cope with illegal operators and suspicions that money laundering may be associated with them.
According to JAKTA president Mirjana Acimovic, "We are very optimistic. We can see that our conscientious work in gathering the relevant facts about gaming markets in the former Yugoslavia and the rest of Europe has been worthwhile. We compared different national regulatory models and collaborated with relevant partners such as testing laboratories, reputable companies and associations.
"JAKTA put a lot of effort into lobbying the government for the creation of a well-regulated gaming market."
On the other side, Aleksandar Vulovic, director of the Serbian Gaming Board commented: "The new law will lead to the opening up of the online gaming market." He also added that there are three significant aspects of the new online gambling law - the first and most important being the control of online gaming; the second covering the electronic monitoring of operators and the third being the benefits of tax revenues from the industry.
In addition, Vulovic said the Gaming Board's plans now involve severe fight against illegal operators, in which it will be helped by the Ministry of Internal Affairs and the tax authorities.
As for the new law provisions, they envisage issuing online gambling licenses for the duration of 10 years, and they impose strict requirements on applying operators which serve to avoid unfair activity, underage and problem gambling and money laundering.