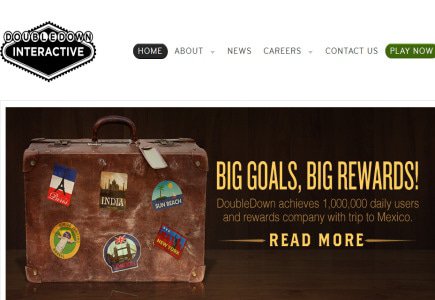 Reputable developer acquires social gaming casino company DoubleDown for $500 million
The latest news from the US land games and machine developer International Game Technology involve yet another acquisition deal, this time for social gaming company DoubleDown Interactive.
The price for the purchase of the company founded in April 2010 and responsible for the existence of the popular Double Down Casino was $500 million. No wonder the amount is significant when one has in mind that the aforementioned casino stands as one of the top 4 social media games on Facebook in 2011, with 4.7 million monthly active users and an extensive offering that includes blackjack, slots, slot tournaments, video poker, and roulette.
Of the $500 million consideration, $250 million is payable in cash, $85 million in retention payments over the next two years and up to $165 million in cash, payable over the next three years subject to Double Down meeting certain financial performance targets.
According to IGT spokesmen, "The addition of Double Down provides IGT instant size and scale in the fast growing world of casino-style social gaming and is expected to broaden the company's popular gaming titles beyond the physical casino to Facebook," the world's largest social network with over 800 million global users.
"This powerful distribution model is anticipated to provide IGT an opportunity to entertain players with consistent, ubiquitous, thrilling gaming experiences across multiple platforms," they added.
On the other side, Greg Enell, chief executive of DoubleDown commented: "Double Down and IGT share complementary cultures focused on innovation and creativity. Both companies are committed to providing unrivaled quality, service and entertainment to millions of players. Leveraging IGT's Research and Development, global reach, and best-in-class content will provide our player base with an even more robust experience and is expected to augment Double Down's growth trajectory."
Another comment regarding the acquisition arrived from Enell's IGT counterpart, Patti Hart, who said: "As technological innovations increasingly influence consumer behavior, social dynamics are quickly transforming entertainment and gaming experiences everywhere.
"The addition of Double Down launches IGT into a leadership position in social gaming, extends our global reach through new mediums and leverages our unmatched expertise in game development. We intend to drive meaningful value from this rapidly growing distribution platform that reaches a new but complementary demographic of gamers."
In addition, it has been specified that the transaction should close within the second quarter of IGT's current fiscal year, and that it is planned that Enell will continue to lead Double Down and that the company's operations will remain in Seattle. IGT also added that Double Down will be allowed "an appropriate level of independence in order to foster its continued exceptional growth."